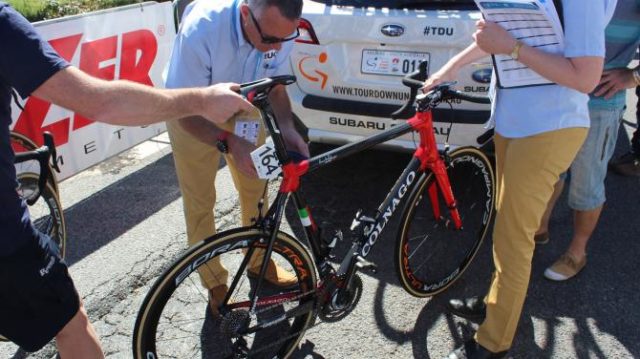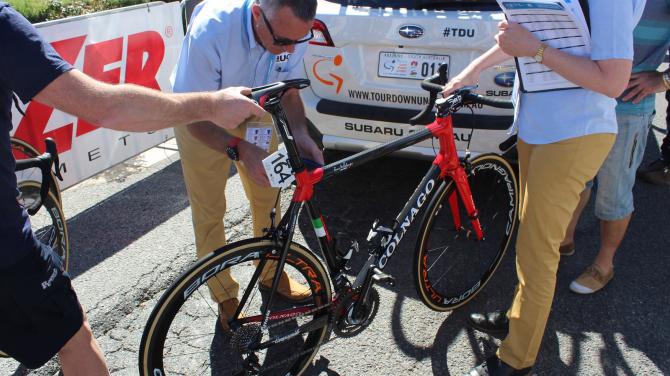 An investigation carried out by Italian newspaper Il Corriere della Sera, French television program Stade 2 and German television ARD managed to procure one of the tablets used by the UCI for hidden motor checks.
According to the report, the UCI use an Apple iPad modified with software and a magnet added to act as an antenna. The tablet uses software developed by Endoscope-i, a company based in Birmingham, U.K. who according to the report have no specialties in detect such things as motors.
The setup is suppose to be able to alert testers of the presence of magnetic flux density of hidden motors or magnetic wheels. The UCI have been encouraging national federations to purchase the technology according to Il Corriere della Sera.
During testing, the device was able to detect the magnetic field around the hidden motor, it also detected similar magnetic fields in three other places on the bike where there was no hidden motor.
While that would usually prompt further investigation, a WorldTour mechanic explained to Il Corriere della Sera that he has never seen the UCI dismantle a bike. UCI testers just scan the frames with the device.
The device was then used to test a carbon wheel motorised with electromagnetic induction and the UCI device detected nothing.
"The wheel is perfectly clean, at least for the tablet," says Marco Bonarrigo. "But the X-rays show the induction plates and the transmission cables, perfectly hidden by carbon," the story continued.
"The wheel that transforms the bike into a motorbike is, for the UCI controls, a piece of inert fibre."
Earlier this year, Istvan Varjas, the engineer widely believed to be behind the invention of mechanical doping in cycling, has claimed that the UCI's current methods of detection cannot pick up certain forms of mechanical doping.