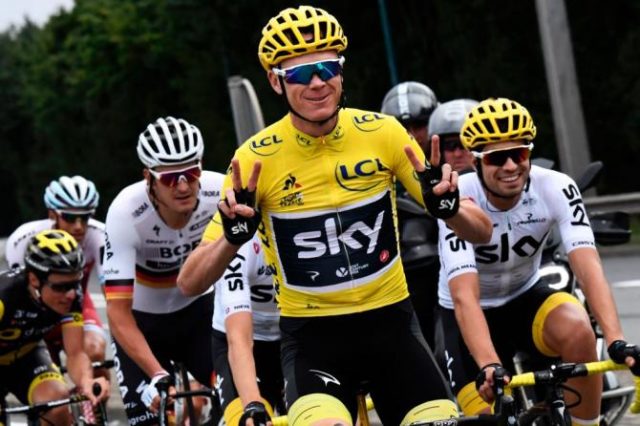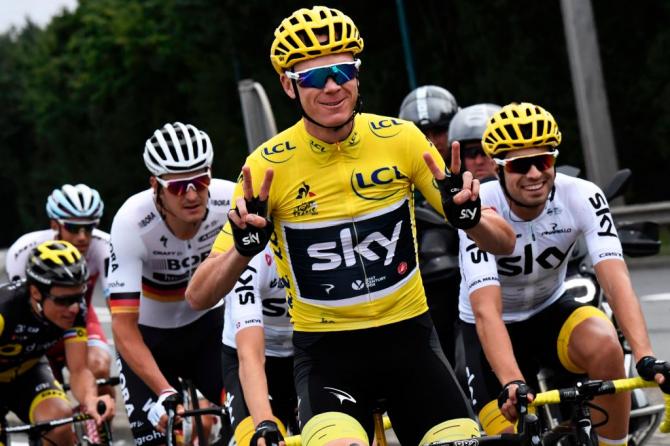 Chris Froome wrote himself further into the cycling history books after securing a fourth Tour de France victory in Paris.
The Team Sky rider was flanked by his team-mates as he crossed the line on the Champs-Elysees, and claimed the famed maillot jaune by an eventual winning margin of 54 seconds.
"I'm speechless. It's just an amazing feeling," said Froome after climbing off his bike in Paris. "The Champs Elysees never disappoints. There's something magical about it when you've spent three weeks thinking about being here and this moment. It's so rewarding, every time.
"Each time I've won the Tour it's been so unique, so different, such a different battle to get to this moment. They're all so special in their own ways. This year will be remembered as being the closest and most hard-fought battle between the GC rivals."
After the race ended in a traditional sprint on the Champs-Elysees, won by Dylan Groenewegen (LottoNL-Jumbo), Froome took to the podium to address the fans.
"Firstly I want to dedicate this victory to my family. Michelle, Kellan, your love and support makes everything possible. You've been there for me through the ups and the downs and my life with you is what makes all the sacrifices worth it. Thank you.
"I also want to thank my team, Team Sky. I could not have achieved this victory without you. On and off the bike, your dedication and passion means we are a team I am proud to be a part of it.
"This Tour has been my toughest challenge yet. The performances of my rivals have pushed me harder than ever before, so I want to pay tribute to all the riders for their sportsmanship over the past three weeks. We race hard against each other, we suffer together, but the most special thing is the camaraderie and friendship in the peloton.
"The opportunity to win a fourth Tour de France this year has motivated and inspired me more than ever before. It is an honour to even be mentioned alongside those who form such an important part of the Tour's history. It is a history I am very proud to be a part of, but every Tour is unique, and every year is a new story to be written.
"I will never forget what it means to wear the maillot jaune, and what an incredible privilege it is to stand here on the Champs Elysees as winner of the Tour de France."