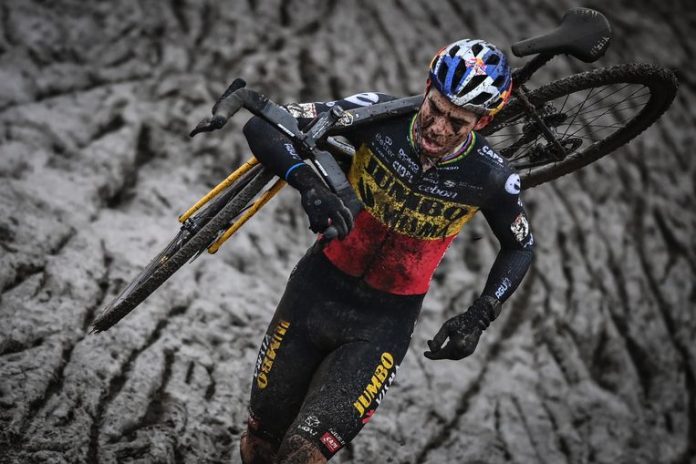 Wout van Aert rode his first cyclocross race of 2023 on Tuesday afternoon, but his bike feels different as Jumbo-Visma has switched from Shimano to SRAM for 2023.
"That takes some time getting used to," said Van Aert. The 28 year-old rider will have to get used to the differently SRAM shifting on his cyclocross bike due to the switch. "Normally I race on automatics (Di2). So it can certainly happen that I shift wrong in Herentals. But I will soon get used to that new shifting system."
SRAM is not new to Van Aert. At the start of his career with Vastgoedservice, he also raced with the SRAM system.
"The adjustment is more difficult for the mechanics than for the riders. I still know the system, so the feeling is back very quickly for me," said Van Aert. "It's just a bit of a shame that you now have to change from one cross to another in the winter, but that's not that difficult in itself."
In addition to the shifting system on the Cervélo, there are some changes in Jumbo-Visma's equipment.
"On their road bike, the riders will also have to get used to new shoes (Nimbl) and pedals (Speedplay)," Mathieu Heijboer, the Head of Performance at Jumbo-Visma, told Sporza. "They are very different from last year and offer a big advantage in aerodynamics and weight."
In cyclocross, however, Van Aert will still race on his trusted pedals and shoes for the time being.
Jumbo-Visma has hired experts to help riders with the change of material, says Heijboer.
"During the last training camp in December, we switched completely to the new components. We have already explored Paris-Roubaix with the new bikes and we have noticed that we are making a lot of gains in several areas. The riders were delighted with the new bikes."