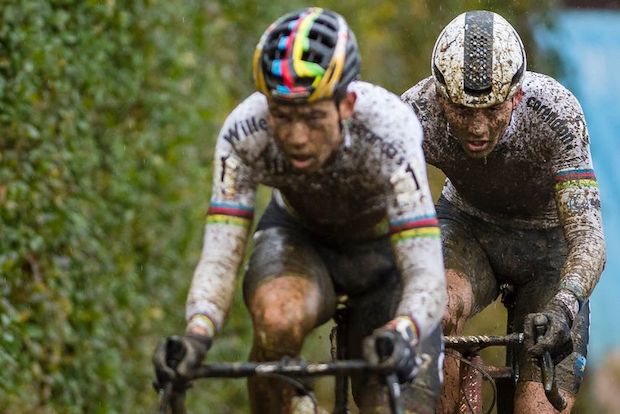 Wout Van Aert closed a fantastic year on the road but the Belgian is not slowing down and will continue to compete in cyclocross for the remainder of the year, in a long and grueling campaign.
You can watch the entire cyclocross season LIVE for free on our site HERE
"I'm definitely looking forward to taking on Mathieu in the mud," Van Aert said.
"I don't think it is any easier for me in cyclo-cross, everyone also knows Mathieu's ability on the bike. Even if I have very good legs, it's still difficult to get close to him, but that doesn't mean that I'll give up trying. I haven't been able to show myself in cyclo-cross very much in recent years due to injuries or just a lesser form but I still want to get back at my best. This year I've come out of the road season very well and there is really nothing to indicate that it would go less in the field. I hope to get back to my old level and be at my best in January, especially at the World Championships, so I can compete again with Mathieu and the other riders."
"We try to do some efforts for that because we really need the power in cyclo-cross. You really have to sprint after every corner and it's much less of an endurance effort than on the road. That work can be done with specific training on the dirt but in Spain, we did intervals of a minute or half a minute on the road."
"I have prepared very briefly for the cyclo-cross season for the time being. I made the choice to return to races as soon as possible because that seemed to be the most important for January. I certainly won't be in my best condition.
"I'm going to ride three cyclo-cross races and then I train for a period to hopefully be at my best from the Christmas period. I'm going to need some serious improvements to be able to compete with the cross specialist guys, the level is high."
Mathieu van der Poel's cyclocross schedule
12 December – X2O Trofee, Anvers
20 December – World Cup, Namur
23 December – X2O Trofee, Herentals
30 December – Ethias Cross, Bredene
1 January – X2O Trophy, Baal
9 January – National Championships, Zaltbommel
23 January – X2O Trofee, Hamme
31 January – World Championships, Ostende
Wout Van Aert's cyclocross schedule
28 November – X2O Trofee, Courtrai
29 November – World Cup, Tabor
6 December – Superprestige, Boom
23 December – X2O Trofee, Herentals
1er January – X2O Trofee, Baal
9 January – National Championships, Meulebeke
23 January – X2O Trofee, Hamme
31 January – World Championships, Ostende