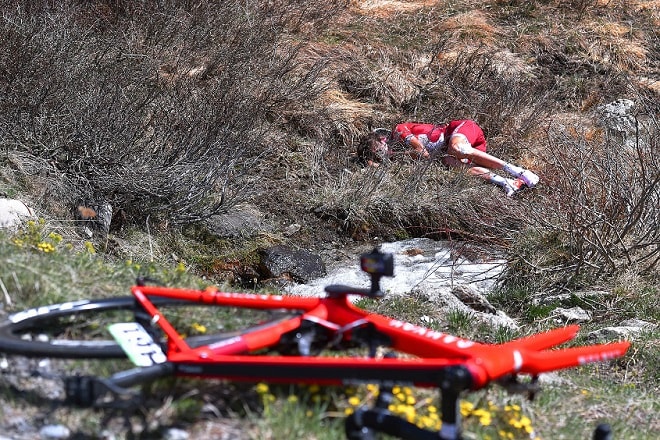 The 100th edition of the Giro d'Italia, which begins Friday in Sardinia, will feature a prize for the best descender as determined by 10 timed descents.
The news has been met with incredulity and criticism, with professional riders and cycling fans alike questioning the wisdom of such a move.
In the light of the recent death of 21-year-old American rider Chad Young, who crashed on a descent in the Tour of the Gila, some riders have condemned the prize, branding it as a "life threatening idea".
In related news, Band-Aid brand will be sponsoring the new "most spectacular crash" classification. Seriously, who came up with this shit? https://t.co/WaUHTACF33

— Joe Dombrowski (@JoeDombro) 1 mai 2017
@giroditalia Its not that long ago that we lost our friend and college Wouter Weylandt in a descent crash.Should this happen again?! NO!!!

— Marcus Burghardt (@MBurghardt83) 1 mai 2017
How incredibly stupid. We've already lost riders to high speed crashes on descents (Chad Young, Wouter Weylandt). Why reward risk taking? https://t.co/NWCrxxfLZG

— Lindsay Bayer (@thedirtfield) 1 mai 2017
Please don't do this @giroditalia. A 3 week race trough Italy is enough spettacolo! @cpacycling https://t.co/2IjLlYenLD

— Jos van Emden (@josvanemden) 1 mai 2017
Life threatening idea to give a prize to the best descender in Giro? I hope this is a joke? What about safety?@UCI_cycling @cpacycling https://t.co/Blkw8Zk6br

— Wout Poels (@WoutPoels) 1 mai 2017