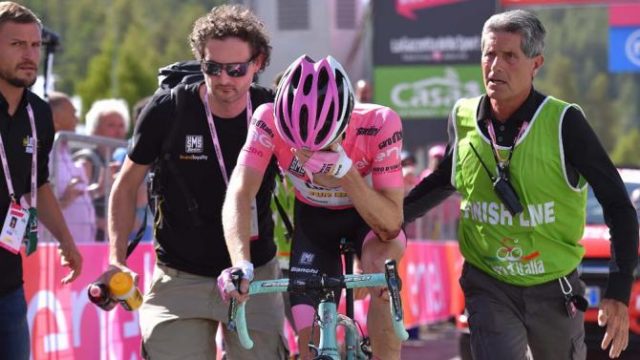 The 100th edition of the Giro d'Italia will feature a competition for the best descender – the Pirelli Premio Miglior Discesista, a contest for the fastest descender over 10 different segments.
The competition is a new one for 2017, and the financial prizes on offer said to be smaller than those for the main classifications.
Here's the rule according to the Giro d'Italia 2017 rule book:
"A special classification has been set out to assess the best downhill rider of the 100th Giro d'Italia. Times will be recorded along the following downhill stretches:
Stage 8: Monte Sant'Angelo
Stage 9: Chieti
Stage 11: Monte Fumaiolo
Stage 12: Colla di Cassaglia
Stage 15: Selvino
Stage 16: Passo dello Stelvio
Stage 17: Passo del Tonale
Stage 18: Passo Pordoi
Stage 19: Sella Chianzutan
Stage 20: Monte Grappa
The 1st, 2nd, 3rd, 4th and 5th fastest riders covering the timed downhill stretches above will be awarded with 8, 5, 3, 2 and 1 points, respectively. For each timed downhill stretch, the fastest rider will be awarded with a prize of €500.
At the end of the Giro, the general classification will be issued, based on the sum of the points achieved by each rider, and the following prizes will be awarded: 1st €5,000; 2nd €3,000; 3rd €2,000″.
Many people have suggested on social media that it is irresponsible to offer prizes at all for the fastest descent, given the death of Belgian rider Wouter Weylandt in a crash on the race in 2011 and, just last week, Chad Young dying from injuries sustained at the Tour of the Gila.
.@giroditalia seriously?! If this true you should be ashamed.. aren't there already enough crashes? Clearly you only care about sensation.. https://t.co/uWnIyhSil7

— Jasper Stuyven (@Jasperstuyven) 1 mai 2017
Please don't do this @giroditalia. A 3 week race trough Italy is enough spettacolo! @cpacycling https://t.co/2IjLlYenLD

— Jos van Emden (@josvanemden) 1 mai 2017