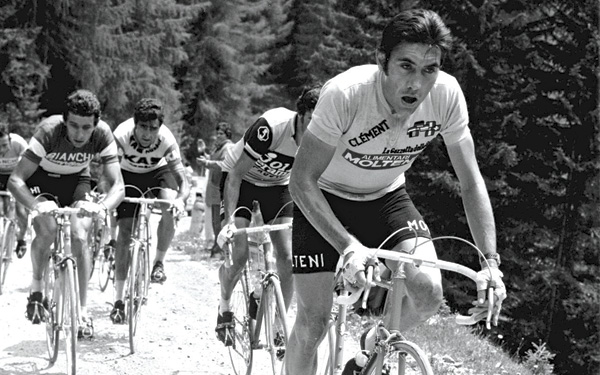 One of the most futile tasks a cycling fan can take on is trying to explain the importance of Eddy Merckx to a layman. Anyway, how did Eddy Merckx train? Well, hard about describes it. 
Merckx, one of the best cyclists ever, entered some 1,800 races during his career, winning 80 as an amateur and 445 as a professional. As fellow Belgian rider Noël Van Tyghem once remarked, "Between us, I and Eddy Merckx have won everything that can be won. I won Paris-Tours, he won all the rest."
It's not just the number of races won, it's the sheer quality, depth and breadth of his wins that sets him apart: 11 Grand Tours, 28 Classics victories, three World Championships, 17 six-day races, an Hour record that stood for 28 years.
He spent a total of 96 days in the yellow jersey, took 34 stage victories in the Tour de France, winning every jersey along the way including the maillot jaune five times, his first by a margin of 17mins 54secs.
In the days leading up to the 1969 Tour, Eddy Merckx won the 264km Belgian National Road Race Championships, rode 180km with teammates, 270km without, and threw in a couple of 35-50km rides for good measure (both of which would have been longer).  Then on the day of the prologue time trial he lined up at the start having already ridden 80km that day!
Our knowledge of how the body works and how best to bring it in to good form has changed a lot over the last 40 years.  Training that way certainly may have worked back then, but also they knew no other way.
If Eddy Merckx trained using modern techniques and practices perhaps he may have won even more.  Or perhaps less, training back then certainly seemed to be a very throw-the-eggs-against-a-wall approach and see what's left. Thus the winner may not necessarily be the best bike racer they may just be the one who training didn't kill.
"I always rode my bike but as a kid I never rode big distances, and when I started racing I did not train that much", said Merckx. "I was doing lots of other sports as well, mostly basketball because there was a club near where I lived. And swimming, football and tennis, but it is very expensive playing tennis – I could not pay! I just wanted to be a cyclist, and why I didn't know. It was a passion."
For almost the whole of January, Merckx's team Molteni rode 200 kilometres together. They rode side by side, swapping riders at the front. And they rode whatever the weather threw at them. Rain, hail or sleet, it didn't matter.
They rode from Brussels to the East Flanders hills, the Flemish Ardennes, did a big loop of the Tour of Flanders climbs, then rode back to Brussels again.
"I used to see them," said former British rider Barry Hoban. "I'd be out training, but the Flemish Ardennes are a lot nearer to where I lived in Ghent than they are to Brussels. I'd be on my way home and I'd shout, 'Enjoy your 200 kilometres, lads,' taking the mickey a bit, but the training worked.
"Merckx always had riders around him towards the end of a Classic. He always had teammates who could set the pace and close gaps, setting things up ready for him to attack."
The training group would have a team car following them, with bike spares, extra clothing, food and drinks because there were never any stops.
So hard work does pay, especially if your name is Eddy Merckx.