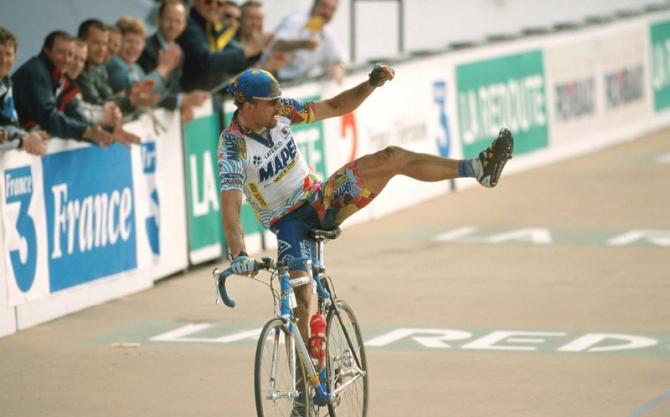 The Lion of Flanders Johan Museeuw was one of the most successful one-day riders of his generation, amassing a palmarès during his 16 plus year career that places him amongst the very best of classics champions.
The Belgian rider shares the record of three victories in the Tour of Flanders alongside Achiel Buysse of Belgium, Fiorenzo Magni of Italy and Eric Leman of Belgium. Museeuw also won the Paris-Roubaix no fewer than three times in 1996, 2000 and 2002.
Many cycling historians view Museeuw's 2000 victory as the highlight of his career, after rebounding from a serious leg injury in the 1998 cobbled race that almost resulted in the loss of his leg due to a gangrene infection.
Fans will recall how he broke away with more than 40 kilometers remaining, famously lifting his leg out of the pedal before crossing the finish at the Roubaix velodrome as his victory salute.
Museeuw also won the World Championship Road Race in 1996, beating Mauro Gianetti of Switzerland and Michele Bartoli of Italy.
Born in Varsenare, Museeuw grew up in Gistel, West Flanders. His father had been a professional cyclist for two seasons, albeit without much success. As a junior and amateur rider, Museeuw was initially focused on racing cyclocross before turning to road, where he achieved a few minor victories. However, Museeuw turned professional in 1988, riding for the ADR team.
The following season, he was part of ADR's contingent to the Tour de France, riding in support of Greg LeMond, who won his second French Grand Tour title, wherein the Belgian neo-pro could be seen leading the peloton for days on end for his team leader, who wore the yellow jersey for most of the race.
In 1990, Museeuw switched to the Lotto team, winning two stages in that year's Tour de France, namely the uphill-sprint stage to Mont Saint-Michel and the final stage in Paris, both in hotly contested sprint finales. 
1991 saw victories in a number of smaller venues such as the Championship of Zürich and his first win in a World Cup race.
The following season, Museeuw placed third in Milan–San Remo, winning the peloton sprint behind Sean Kelly and Moreno Argentin. Later that season, he won the prestigious E3 Harelbeke one-day race, marking his first cobbled semi-classic victory. In addition, he also won the Belgian national road race title in Peer. His season was also highlighted by a second place finish in the points classification of that year's Tour de France, losing out to Frenchman Laurent Jalabert for the second time.
1993 marked Museeuw's first triumph in the Spring Classics, winning his first of three Tour of Flanders victories.
Museeuw credits his rise to stardom with his decision to move to the MG-GB team, where under the direction of team manager, Patrick Lefevere, his skills really began to develop.
Indeed, under Lefevere, Museeuw really began to hone his skills as a classics specialist, trading his powerful sprint in favor of a riding technique that encompassed more focus on endurance and stamina for such specialized races as the cobbled classics.
Museeuw's strong formed continued throughout the 1993 season, winning a stage in Paris–Nice and Dwars door Vlaanderen. He also wore the yellow jersey for two days after an impressive prologue and team time trial performance in that year's Tour de France, while also placing second in the final points classification for a third time.
Additionally, he ended his season with a victory in the Paris–Tours race, earning his third World Cup win.
The next season, Museeuw narrowly missed-out on a second Tour of Flanders victory, when he was beaten by Gianni Bugno by a mere 7mm in the sprint finish.
Disappointment for Museeuw continued, when a week later he suffered an untimely mechanical failure while in furious pursuit of Andrei Tchmil during Paris-Roubaix, relegating him to a paltry 13th place.
Yet, he still managed to end his spring campaign with victories in Kuurne–Brussels–Kuurne and the Amstel Gold Race after winning a two-man sprint against Italian Bruno Cenghialta, as well as his fourth World Cup win.
In the Tour de France, he wore the yellow jersey again for three days, before losing it to Miguel Indurain in the long time trial to Bergerac. He ended the year in sixth position of the UCI Road World Rankings.
In 1995, his MG-GB team merged with Mapei-Clas, forming the strong Italian-Belgian Mapei team that dominated cycling's classic races in the 1990s.
That season, he won his second Tour of Flanders title, earning him the nickname The Lion of Flanders in the Flemish media.
He later won the Championship of Zürich again, while winning the final standings in the World Cup, confirming his status as the best one-day classic rider of the year.
The following season, Museeuw won the Brabantse Pijl, but only managed a third place finish in the Tour of Flanders after suffering a mechanical problem.
Nevertheless, he earned his first Paris-Roubaix victory a week later, as his Mapei-GB team dominated the race, paving the way for the Belgian and his Italian teammates Gianluca Bortolami and Andrea Tafi to arrive at the Roubaix Velodrome together.
As legend has it, Lefevere received a phone call from Mapei's managing director, Giorgio Squinzi, ordering that Museeuw be allowed to win the race.
Later that season, Museeuw won his second Belgian national road race title, but failed to win a stage in the Tour de France.
After a disappointing performance in Paris–Tours, where he wanted to secure his overall lead in the World Cup, Museeuw indicated that he was considering quitting cycling altogether. However, he later changed his mind and decided to compete in the world championship road race.
Far from being considered a race favorite due to the mountainous course of that year's route in Lugano, much to the surprise of many, Museeuw won after a long breakaway with Gianetti, ultimately beating his Swiss rival in a two-man sprint. He subsequently went on to win his second World Cup title as well.
In 1997, Museeuw started the year with three stage wins in the Ruta del Sol and another victory in Kuurne-Brussels-Kuurne, but failed to take another World Cup win as a result of crashes in Milan – San Remo and the Tour of Flanders, along with a puncture in Paris-Roubaix, which robbed him of the title.
Additionally, he finished sixth in Liege-Bastogne-Liege, abandoned the Tour de France on the 18th stage after several unsuccessful attempts to win a stage. He also failed in his bid to defend his world championship title in San Sebastian, after missing the winning breakaway and finishing a disappointing eighth.
Next season was more fruitful for Museeuw however, after winning E3 Harelbeke and the Brabantse Pijl in the same weekend. He also won his third Tour of Flanders, equaling the race's record of three wins.
However, tragedy would befall Museeuw a week later, when a horrific crash along the cobbled sector of the Trouce d'Arenberg in that year's Paris-Roubaix would leave him with a severely injured kneecap that would later turn into a dangerous gangrene infection that nearly cost him his leg.
After a long healing process, Museeuw eventually regained his form, finishing third in next year's Tour of Flanders, and ninth in Paris-Roubaix. This miraculous recovery would set the stage for his second Paris-Roubaix victory in 2000. 
As mentioned, upon crossing the finish, the resolute Belgian lifted his left leg, pointing to his knee as a reminder of the injury that almost ended his career two years before.
Later that year, Museeuw was again seriously injured. This time in a motor cycle accident, causing severe head trauma that left him in a coma for several days. 
But, once again, his dogged determination and powerful riding style won him legions of fans all over the world and made him all the more popular in his native Flanders.
In 2001, he moved with Lefevere to the Domo–Farm Frites team, where he worked on his comeback from his accident.
He placed second in Paris–Roubaix and fifth in the Amstel Gold Race that season, while abandoning Tour de France for the final time during the Pyrenean stages.
However, in 2002 he was back on top of his game, after finishing second in the Tour of Flanders and claiming his third victory in the Hell of the North classic. He also won the HEW Cyclassics in Hamburg later that season, totaling 11 World Cup victories.
In 2003, he once again followed Lefevere, this time to the newly established Quick-Step–Davitamon team.
From there, he won the early season Omloop Het Volk race. But, ongoing illness thwarted the remainder of his Spring Classics campaign.
Misfortune would hand Museeuw a similar fate in 2004, when he punctured 5 kilometers from the finish in Paris–Roubaix while riding in the lead breakaway group, thereby costing him his last chance of equalling Roger De Vlaeminck's record. He finished in tears, after mustering only a fifth place finish.
Museeuw's last race was three days later, the Scheldeprijs in Belgium, won by his young teammate and fellow Belgian Tom Boonen.
He ended his career in the spring of 2004 after almost two decades as a professional with 59 professional victories to his credit. And, despite failing to set a new record for victories in the cobbled classics during his final season, for years, Museeuw's combined victories in the Tour of Flanders and Paris–Roubaix held the record, until Boonen broke it in 2012.