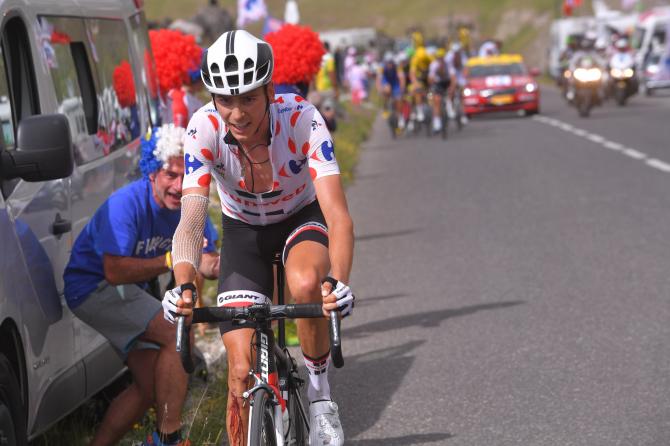 Warren Barguil will ride for Fortuneo-Oscaro team in 2018 after completing a move away from Team Sunweb.
Based in Barguil's home region of Brittany, the team seems like a natural fit for the best climber in this year's edition of the Tour de France, who also spent a few months with the team as a stagiaire in 2011.
"I am very happy to join the Fortuneo-Oscaro team," Barguil said. "I have watched the team's rise in recent years and as the last Tour de France shows that there is a very solid collective, and individuals capable of taking us to very beautiful places at this level of competition.
"Emmanuel Hubert has the ambition to make the team grow with a project that I find it exciting, consisting of looking for results in the biggest international races, while maintaining this 'family' state of mind. Emmanuel understood how I wanted to work in the image of what I was able to do on the last Tour de France: to let my natural temperament of an attacker speak.
"The project we have together is in the medium term, so we will work step by step and do not change the things that worked well. In addition, when I joined Fortuneo-Oscaro, I joined a team with Breton DNA. Needless to say, that counts a lot too."
"It is a tremendous pride for the entire Fortuneo-Oscaro team to see the arrival among us of a great champion like Warren. He will be able to count on all the desire and the collective strength of a team that has long been waiting to support a strong leader, able to win the biggest races at the international level," said General manager of Fortueno-Oscaro, Emmanuel Hubert.
"We share, Warren and us, the same values of humility, fighting spirit and generosity that are essential to win, because in cycling, success is always collective. Warren is also from Brittany; Brittany is proud of its roots and is ready to conquer new territories."