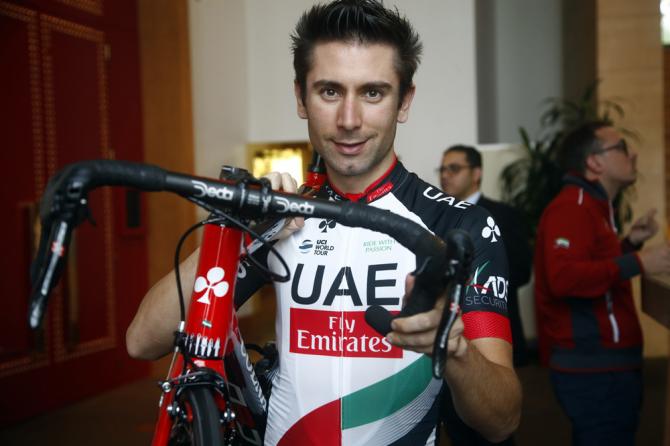 The UAE Abu Dhabi team has announced that Fly Emirates has been taken on board as a title sponsor, with the team adopting the name of UAE Team Emirates. 
The team, which is racing this week at the Abu Dhabi Tour, will become UAE Team Emirates immediately and wear red, green, white and black – the United Arab Emirates colours.
"We aim to be a top-three team within three years," Matar Suhail Al Yabhouni Al Dhaheri, the team president said during the presentation.
"We are looking to be in the top 10 team, go step by step, look for top 10, then the year after more like top five. We're aiming, slowly but surely, to be top-three next in the three years. I'm confident in my management and riders to reach that in three years."
Known as Lampre-Merida last year, the team's license was taken over ahead of the 2017 by TJ Sport, a Chinese company. TJ Sport pulled out late in 2016 though, and there were fears that the team might have raced its last season, but the UAE state took over and put in enough to ensure that the team would run.
UAE-Abu Dhabi's budget was reportedly €10 million, relatively low for a WorldTour team. That could now change. The airline company, flying over 51 million in 2016, had a profit of €2.14 billion.