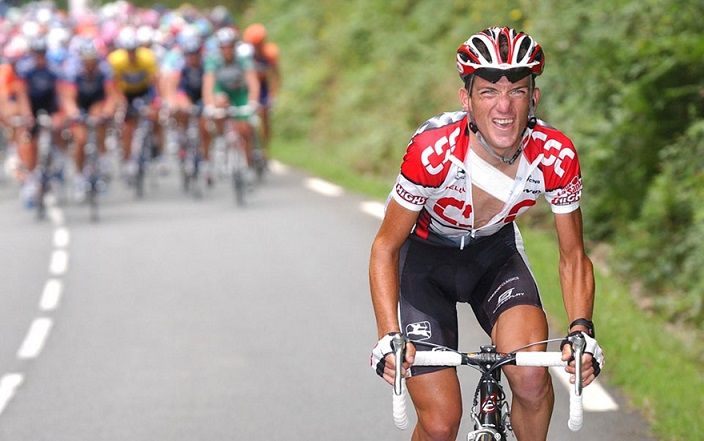 Tyler Hamilton rode for Lance Armstrong during three of the seven Tour de France victories the Texan won while doping.
Hamilton was stripped of the 2004 Olympic road time trial gold medal after failing a drug test and in 2011 declared his and the team's doping in grand jury testimony, interviews and a book.
"It was almost a bit spiritual, really. It was just a huge weight coming off my shoulders. The first time I told the whole truth all at once was in that grand jury room in Los Angeles.", said the former Liège-Bastogne-Liège winner. "I went in with a 100 kilogramme backpack on. When I came out that thing was really empty. It was just liberating."
"I had been on anti-depressants for ten years. I have some family history with depression. I still think I have it today. I go through some periods where I am a little bit more quiet and reserved. But telling the truth totally helped things.
"I don't take medication any more. Even if I still have those quiet periods, times when I am maybe not super social, telling the truth helped so much. Before, I wanted to disappear from the world at times."
"Cyclists are put through the wringer. It is the hardest sport in the world," Hamilton says looking back at his career. "So hard. You go from riding in the Tour de France, just killing yourself every day for three weeks. You are on the top of the world, you have all this adrenaline, and then two days later you are sitting at home, quiet. It is hard.
"For the next two, three weeks maybe you are super low key. And then, boom, you are back at another race. It is hard. You are travelling a lot. You are away from your friends and family. It is a brutal lifestyle. So I think a lot of cyclists probably also have situational depressive moments."
Asked what he would change about the past Tyler Hamilton says he would do things differently.
"I would try to do it clean. For sure. I mean, I was clean for a while … I did it for two plus seasons as a professional. I won some smaller races clean in Europe. But I think eventually [as a clean rider] I would have probably thrown the towel in. It would have been hard not to. I would have known what others were at.
"It was impossible to not see any of that back then. Guys have said, 'I saw nothing. I lived during that dark decade or two decades, I raced then and I didn't see anything. I never saw it, never heard it.' But that is not feasible, it is almost impossible.
"It would have been hard [as a clean rider] to know all my teammates are doping. To know that I am not being selected for the Tour because I am not doping, and all that. In that scenario I think eventually I would have probably chosen to go elsewhere, to do something else. And that would have been great too. But I do wish I gave it a try, or continued to be clean, I guess."
Hamilton doesn't believe there is the same sort of systematic doping that was in the past.
"Obviously things have changed a lot since the dark days but everybody wants to be, 'okay, we will wipe our hands clean of that.' But no, there is still plenty of work to be done."
"The anti-doping agencies won't say there are giant loopholes, but there are still pretty big loopholes. Blood doping still exists. EPO still exists. And there are new drugs out there.
"It is getting a little bit quiet. I wish I heard more people talking about this subject, saying 'I won this race clean.' We simply can't forget what happened in the past. If we do, we are going to have the same problem again. The last thing we need to do is say, 'okay, that is over with now, now we can relax.'
"Now plenty of amateurs are getting caught, masters are doing it. People know what they need to do if they want to dope. At least back then I didn't know what to do, but there were smart people who did. And the only way you knew how to do that if you were in on the inside.
"Now we have to work harder than ever because there is more information out there. It is easier than ever for kids to get their hands on this stuff. In the past you had to have some sort of connection, but now, with the internet, it is a whole lot different.