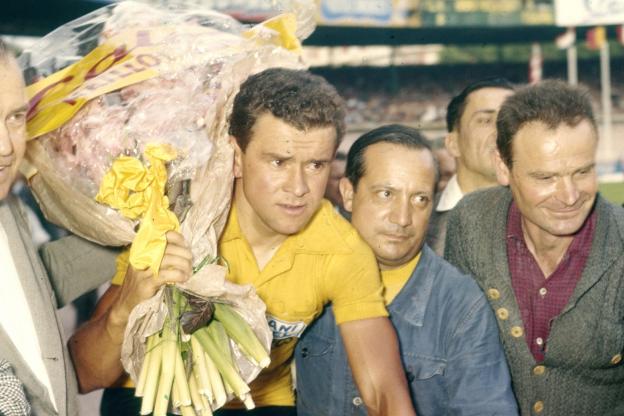 Roger Walkowiak, the oldest winner of the Tour still alive, has passed away at 89 years-old, his family confirmed today.
Walkowiak was a surprise winner of the 1956 Tour de France. The Race for the overall classification began to take shape on the 244 km stage 7 from Lorient to Angers , when a relatively unknown rider from a regional French team, Nord Est-Centre, took advantage of the top national team riders.
While the stars marked each other very closely, Roger Walkowiak made an extraordinary effort to join an early, 31-rider breakaway. The only French national rider in the breakaway was the favorite, Gilbert Bauvin. By the time the peloton noticed the seriousness of the escape, the breakaway had gained an 18-minute advantage. Despite a desperate charge by the peloton, the large breakaway group could not be caught. Walkowiak, the highest placed member of the breakaway, was rewarded with the race lead and his first Maillot Jaune (race leader's Yellow Jersey).
He lost the jersey on Stage 10, but would regain it on Stage 18 from Turin to Grenoble. The inspired regional rider was having the race of his life and took back the overall race lead by matching Spanish climbing specialist Federico Bahamontes pedal stroke for pedal stroke on the last stage in the Alps . The pair finished stage 18 more than 7 minutes behind stage winner Charly Gaul, but Walkowiak gained enough time to take 3'56" lead over Gilbert Bauvin in the overall classification. He was back in the Maillot Jaune with only four stages remaining.
The French rider hung to the maillot jersey for the final four stages to the finish in Paris to finish just over a minute ahead of Gilbert Bauvin. However, his victory was poorly received by both his fellow racers and the public.
The term "à la Walko" later started to be used for a surprise win or for a win achieved without panache. Walkowiak was incredibly disappointed by the reaction from the public and retired from the sport to run a bar.