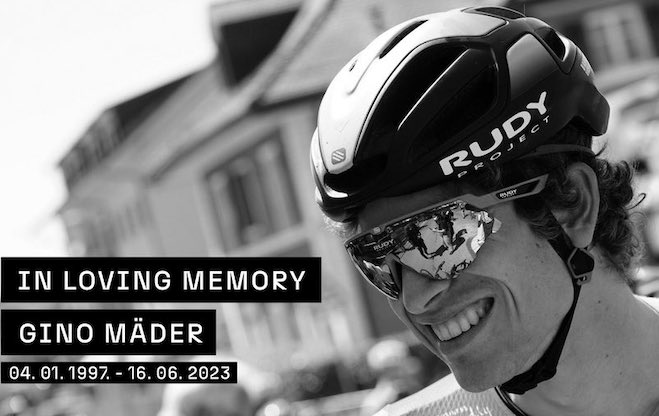 Gino Mader passed away after crashing on Thursday in Tour de Suisse on the last descent of stage 5.
The Bahrain rider was found motionless lying in the water and was then resuscitated. He was taken to Chur hospital, where help was of no avail. Mäder turned 26 years old this year.
A statement from Bahrain-Victorious team reads:
"It is with deep sadness and heavy hearts that we have to announce the passing of Gino Mäder. On Friday 16th June, following a very serious crash during stage 5 of the Tour de Suisse, Gino lost his battle to recover from the severe injuries he sustained. Our entire team is devastated by this tragic accident, and our thoughts and prayers are with Gino's family and loved ones during this incredibly difficult time.
Following the high-speed incident which occurred on the final descent of Thursday's stage, the 26 year old was resuscitated at the scene by medical staff who also performed CPR, before being airlifted to hospital.
Despite the best efforts of the phenomenal staff at Chur hospital, Gino couldn't make it through this, his final and biggest challenge, and at 11:30am we said goodbye to one of the shining lights of our team.
Gino was an extraordinary athlete, an example of determination, a valued member of our team and the whole cycling community. His talent, dedication, and passion for the sport has inspired us all.
Managing Director Milan Erzen commented this morning:" "We are devastated by the loss of our exceptional cyclist, Gino Mäder. His talent, dedication, and enthusiasm were an inspiration to us all. Not only was he an extremely talented cyclist, but a great person off the bike. We extend our deepest condolences to his family and loved ones, and our thoughts are with them during this difficult time. Bahrain Victorious will race in his honour, keeping his memory on every road we race. We are determined to show the spirit and passion Gino displayed, and he will always remain an integral part of our team."
Gino's family has requested privacy as they mourn their loss, and we kindly ask that their wishes be respected. The team and family express our gratitude for the overwhelming support we have received from the whole cycling world.
Gino, thank you for the light, the joy, and the laughs you brought us all, we will miss you as a rider and as a person.
Today and every day, we ride for you, Gino."