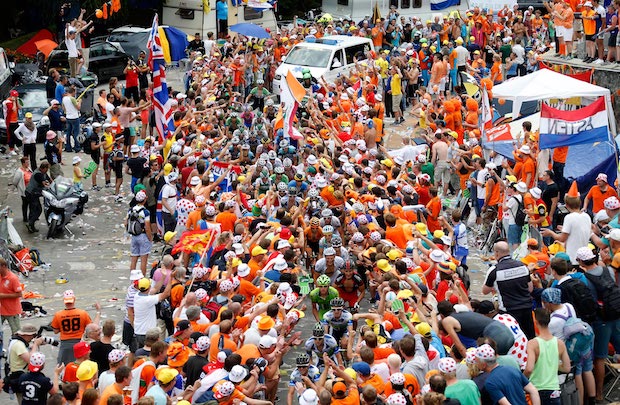 (Reuters) – Every year since he took over from Jean-Marie Leblanc in 2006, Tour de France director Christian Prudhomme has tried to spice up the route with new climbs to make the race more exciting.
In 2012, he introduced the Planche des Belles Filles, where four-times champion Chris Froome claimed his maiden Tour stage victory, adding the brutal col des Chevrieres two years later.
For 2018, Prudhomme and Tour competitions director Thierry Gouvenou have come up with another novelty – the col des Glieres, which will feature on the first mountain stage in the Alps.
The col des Glieres is a six-kilometer climb at an average gradient of 11 percent on narrow roads ending on a plateau, which the peloton will go through on a 1.8-km gravel path.
"It will be interesting from a sporting point of view, but also from a historical point of view," Prudhomme told Reuters on his last reconnaissance of the stage this month.
The plateau des Glieres features the national monument of the Resistance as the limestone plateau was used by Maquis group of resistance fighters during World War Two.
The site had been in Prudhomme's mind for a few years but it was only included very recently in the 2018 Tour, leaving little time for organizers Amaury Sport Organisation (ASO) to set up the route.
"We have a lot of ideas but they don't necessarily come to fruition right away," Prudhomme explained.
The first reconnaissance trips are usually made in June the year before the Tour but organizers often have less than a couple of months to build a 3,500-km parcours.
"Sometimes we have to work on an idea for three years," said Prudhomme.
Gouvenou, however, reminded that ASO is often pressed by time.
"We take the previous Tour into account. It's important not to rush things off and see how the previous edition panned out," he told Reuters.
"Then we can change the number of climbs and the amount of time trial kilometers."
For the 2017 Tour, for instance, Gouvenu made last-minute changes.
"We had wanted a 2016 Tour that was very mountainous but we realized it was a bit too much so we cut down on the number of ascents for the 2017 race. That's only something you can do if you really start working on it in August."
Which is two months before the route is unveiled to the public, usually in mid-october.
The route for the 2018 Tour will be unveiled later on Tuesday and the race is due to start on July 7.
Summing up the organizers' philisophy, Gouvenou said: "We want to get off the beaten track."