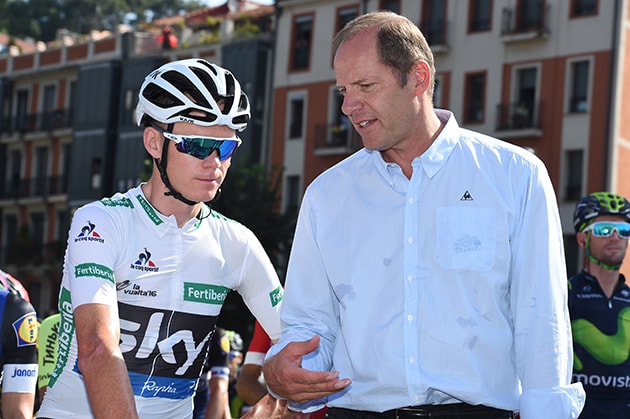 (AP) – Tour de France director Christian Prudhomme wants cycling authorities to act quickly in their investigation of four-time champion Chris Froome.
Froome has been ordered to explain to the International Cycling Union why a urine sample he provided at the Vuelta in September showed a concentration of the asthma drug salbutamol that was twice the permitted level.
"We want the situation to be cleared up, to get out of the darkness and ambiguity," Prudhomme told France Info TV on Friday. "We obviously want an investigation to be conducted, and we don't want it to last for months and months, so we can have an answer from the UCI as soon as possible next season."
If found guilty of doping, the 32-year-old Froome could lose his Vuelta title and be suspended for a long period.
Froome has planned to ride in the Tour next year and Prudhomme wants to avoid a repeat of the scenario that saw Alberto Contador race and win the Giro in 2011 despite a positive test for clenbuterol. His title was later stripped and given to Michele Scarponi after the Court of Arbitration for Sport gave the Spaniard a two-year ban.
Froome won his fourth Tour title this year and followed it with a victory at the Vuelta.
Salbutamol helps expand lung capacity and can be used as a performance-enhancing drug to increase endurance. Salbutamol is classified as a beta-2 agonist and the World Anti-Doping Agency allows it to be taken through inhalation only, in limited amounts.
Sky said Froome had to take an increased dosage of the drug without exceeding the permissible dose after he "experienced acute asthma symptoms" during the final week of the Vuelta.
"Salbutamol is not a banned substance," Prudhomme said. "What matters is the amount taken, that's why an expert battle will take place, although it looks like the dose found was twice the permitted level."