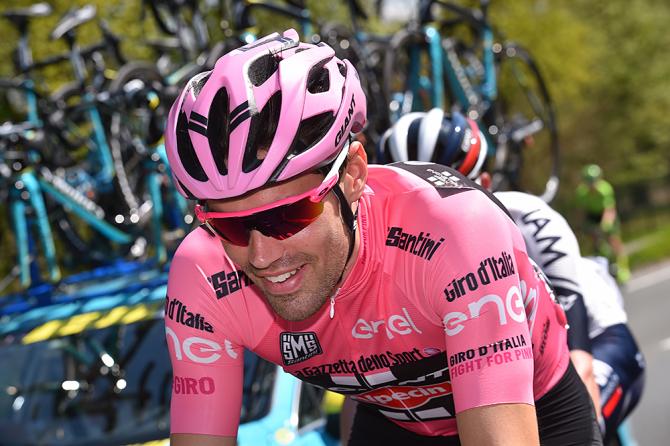 An array of punishing climbs on the final week of the Giro d'Italia stands in front of time trial specialist Tom Dumoulin making history as the first Dutch winner of the race's pink jersey.
Don't miss the 16th stage of the Giro d'Italia LIVE on Cycling Today, starting 11:00GMT, HERE.
"I was up there alone for two weeks before the Vuelta in 2015 and I actually had a really good time," Dumoulin said. "I enjoyed myself. I did the big mountain passes, Gavia, Stelvio and Mortirolo, and it was quite special. I don't know the other stages this week, but I know tomorrow's stage. It can be very hard or it can be very, very hard. We just have to see. I've had some tough stages in the past, so we'll see how it's going to be. My competitors will definitely attack me and it will definitely be a day of suffering."
"If I have a bad day tomorrow, then all my competitors are dangerous," Dumoulin said. "If I lose three minutes, then suddenly they're all quite dangerous for a podium spot or victory. It's impossible to say now who is the most dangerous, but Quintana is closest on GC and in the last two weeks, he has shown himself to be the best climber here, so I think he is the main rival."
Reminded of the 2015 Vuelta a España Dumoulin said he came into this Giro with a special focus on the final week.
"Yes, it's a question mark, but in preparing for this Giro, we tried to focus on preparing to face multiple climbs, and we did less racing beforehand, with the aim of being good in the third week. I tried to prepare as best as possible, but it's a question mark how I hold up in the third week."