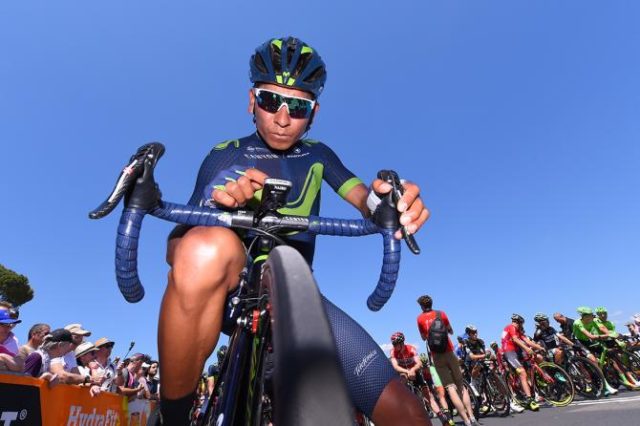 Nairo Quintana is still confident about Movistar's chances to turn things around in Giro d'Italia at six tremendous, closing stages in the big Alps / Dolomites plus decisive TT to Milan.
Don't miss the 16th stage of the Giro d'Italia LIVE on Cycling Today, starting 11:00GMT, HERE
"We've been in such a place before many times; at some races, things turned out well, and at other races, they didn't", said Quintana at the press conference held at the team's hotel in the Alps on Monday. "However, we will always continue to give our best and chase them with all of our heart. We've got five days ahead which should play in our favour"
"The leader has shown to be really strong, though we don't know how he could react against such a parcours. In our case, we're confident our team will be strong, and we will use that to try and take back the time so we can win this Giro. We believe in our winning chances. Plus, as some people say, I always tend to do better on the third week. I hope that Sunday's crash doesn't undermine my chances, because I was feeling great before it. If we look at what has happened in the past, this third week should be good for me."
"I'm in a worse place that I was before the crash, but to be honest, I'm doing better than what could have been if the crash were a real bad one. It was only a scare; I've got a couple of blows over my body, but it shouldn't condition by performance. Dumoulin's gesture when he told his riders to stop was beautiful. It's true that we would probably have made it back thanks to my team in any case, but it would have taken a bigger effort. It was a gentleman's move and we thank him for that."
"Tomorrow's outcome depends entirely on how the stage starts. We don't know whether it will be a fast start or a slow one. Surely many times would like to have people go for the early break, and we must also keep an eye on it because it might turn decisive. We hope to create some gaps at the finish, even if it's not a mountain-top finish. It's also known that some of our rivals are skilled descenders, but we will still take the chance and try to make up some time at the end. I don't have any more fear to the downhill sections because of yesterday's crash – it hasn't really been a problem of mine. Of course there will be some riders who will go on the attack into descents, buy I feel like the biggest difference in the upcoming stages will be done on the climbing sections. Tomorrow's stage is a really tough one, where we all could also pay after all the wear and tear we've gone through in this Giro. It'd be good for me to have a fast-paced race tomorrow, but we must keep our minds on what will be ahead of us after Tuesday, because some stages which seem less difficult than tomorrow's could become even more dangerous and destructive."
"We've already seen him [Tom Dumouin] performing at such a level in the Vuelta a España two years ago. Becoming the race leader after a long TT and then remaining behind the wheel of the strongest climbers in the toughest days – he already did that. We only saw him cracking on the last real day of the race, at a big mountain stage. We've also had some big climbs so far in the Giro, and he defended himself perfectly. It's not a surprise for me to see him wearing pink, but rather how he's going – he's much stronger than expected. He's proving to have come to this race in excellent form, and up to this moment, we haven't seen any real weakness from him.
"He left all of us climbers behind in Oropa. We're yet to see if he remains as consistent in the climbs coming up from Tuesday, which will be really long. Our hope is to see him fading a bit in this third week while we continue to grow, all mountain stages containing more than one climb. Theoretically, there are four or five riders who could win this Giro other than him, and these stages suit us really well. An alliance against Dumoulin? That can only happen depending on how the race goes and which are each one's interests, that's not something you can plan on ahead."
"I don't know which should be my gap to retain pink at the final TT if I get back to the lead. Our goal is to at least taking back all time Tom's got on us at the moment, and then gaining some for the last time trial. I don't know how much time I'd need; maybe thirty seconds, fourty… I won't think about that at the moment, rather than Tuesday's stage. If we can't take back time on him tomorrow, at least we'll be taking some energy out of him."