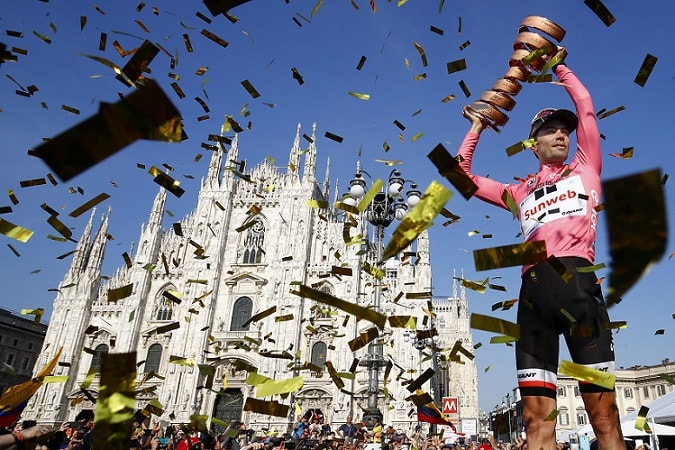 Tom Dumoulin won the 100th edition of the Giro d'Italia in sensational style on Sunday to make history as the first Dutch winner of the three-week Italian race.
"This is a dream come true," said Dumoulin. "When I crossed the line, they said, 'You won! You won!' Then it was only three seconds. I was freaking out. It was incredible."
"I could not have imagined this, never," Dumoulin added. "I was strong, I was lucky, everything fell into the place during the Giro. Nairo [Quintana] did an amazing ride today. I won it, it's incredible. I was feeling good, but halfway through, in my earpiece, they said, don't take risks anymore, and I thought, OK, I must be winning. They should never do that again, because when I crossed the line, it was still so close."
"It's crazy, I don't know what to say," said Dumoulin, who was initially given a taste for the pink jersey when he wore it for the first time in Apeldoorn last year after victory in the opening stage time trial.
"I've still made history by shitting in the wood but now in a positive way," Dumoulin said on Sunday. "I will go down in the history books for winning the Giro after pooping in the woods, it's quite amazing."
"I never expected to win the Giro. Maybe somewhere in the future, maybe one time with a lot of luck or whatever, but not this year. I would have been very happy with a place in the top ten. If I had done that, then I would have been very happy with how I coped with it."