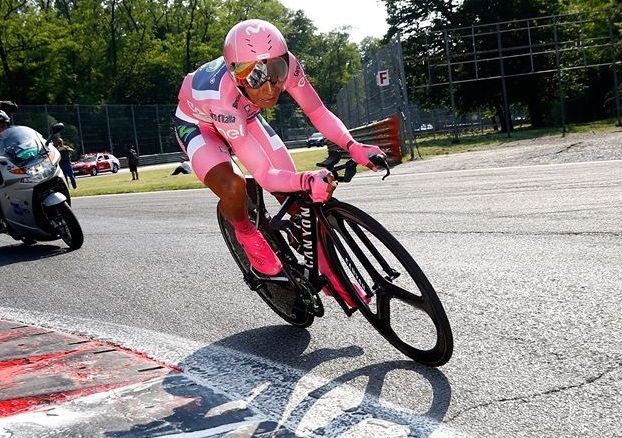 Nairo Quintana came 31 seconds short to winning the 100th Giro d'Italia and claiming what would have been his second overall success in the first Grand Tour of the season.
The Colombian saw the 53-second advantage he held before the 29.3km ITT showdown from Monza to Milan vanishing at the last day of racing.
"A podium finish is not something to be disappointed about. We're not machines, we can't do everything we want as we want before a race", said Quintana. "Sometimes, you don't get the prize you want, even when you work hard to accomplish your goals. More in contrary: we're happy, satisfied about this result. The best thing in this Giro was the great teamwork – I have no words to describe how grateful I am towards the whole Movistar Team. We could have done it better, maybe worse, but we're on the podium and that's what counts right now. Dumoulin didn't look like the main rival for us before the race, yet he bested everyone with excellent TT and mountain performance. He really deserves this victory.
"We continue to grow, to gain experience. Today's TT is a big experience, really. There were also moutnain stages where I could have done better, but the legs just felt like they did. I went through some illness at a few stages into the final week, days where I could just manage to stay with the GC group. Still, we knew before today's TT that we needed a bigger advantage heading into the final TT. 70km of time trials are too many when you've got to defend yourself against riders like Tom. I think we did a nice job at those, though.
"This Giro makes me feel even more confident about my consistency on Grand Tours. If you prepare well, you'll be up there with the best guys in the race – that's a huge boost of morale. We're willing to continue working hard after this, and several things are looking good before the Tour – my legs seem to be doing well. Also, there will be many details to correct, things to polish. The Giro has been a huge test whose results we'll have to analyze from now. I want to thank all fans, especially those in Colombia, for their support and messages. We left everything on the road, and I hope we made them proud about our efforts."