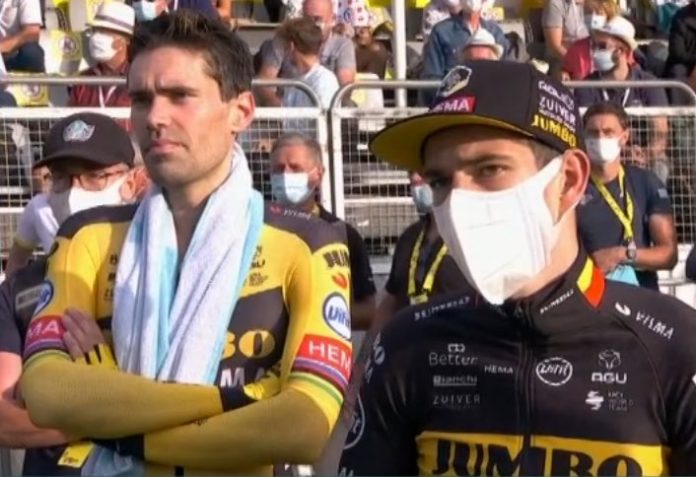 In an incredible climax to the Tour de France, Tadej Pogacar crushed fellow Slovenian Primoz Roglic in the last stage Saturday before the finish in Paris, all but guaranteeing that he'll win the title at cycling's greatest race.
The high drama was reminiscent of Frenchman Laurent Fignon's collapse in 1989. He had a lead of 50 seconds over Greg LeMond before the final stage, also a time trial, from Versailles to Paris. Fignon ended up losing to the American by just eight seconds – the smallest ever margin of victory.
Sport en emotie. Soms ó zo mooi, maar soms ook zo onwijs klote! Wat een ontknoping. #TDF2020 pic.twitter.com/9sowffLf6h

— Bas Tietema (@BasTietema) September 19, 2020
"What can I say? It happened. I don't know how Pogacar climbed a minute faster than I did," Tom Dumoulin said. "We hadn't taken this into account, this is quite a blow. The Tour win slips from our hands. I rode well again, but that doesn't matter anymore.
"Pogacar was too strong today. He was at a completely different level than we were. Primoz felt good, he knew he had to put down a good time trial. He hasn't ridden his best, but it certainly wasn't bad either. We expected it to be enough."
"It hurt my eyes how Primož got more and more into difficulty," Van Aert said. "It didn't look as smooth as usual, he missed that cadence.
"And before the start, it all looked so good. But it is a combination of Pogačar that rode really fantastic while Primož did not reach his normal level that ensures this result. We went all out every day. We gave everything and did everything perfectly. We were ready to celebrate, so to speak."