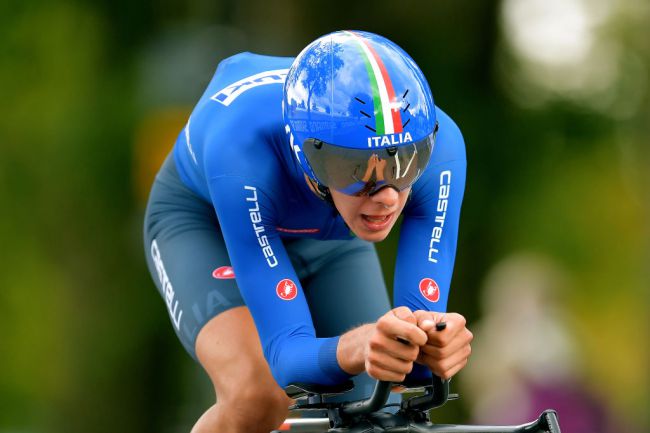 Antonio Tiberi won the men's junior time trial at the World Championships despite having to change bikes in the first 100m, while Aigul Gareeva took the women's title.
Tiberi, 18, had barely reached the bottom of the start ramp before noticing he had already suffered a mechanical.
The Italian stayed calm and ultimately put in an impressive ride in the men's race in Harrogate. His time was eight seconds faster than that of runner-up Enzo Leijnse (Netherlands). Germany's Marco Brenner rounded out the junior men's TT podium.
Nightmare start for Antonio Tiberi ?? – he's had to change bike before even getting round the first corner!

Respect for keeping so calm in such a high stress situation. #Yorkshire2019 pic.twitter.com/OE4RnUzjNT

— UCI (@UCI_cycling) September 23, 2019
In the women's junior race, Aigul Gareeva has given Russia their first win since 1997.
Her win was not without its drama, as she went the wrong way at one point, opening up the chance of Shirin van Anrooij of Netherlands winning the event.
What. A. Save! #Yorkshire2019 pic.twitter.com/UjkjlHvStd

— Bas Tietema (@BasTietema) September 23, 2019
Nonetheless, she composed herself to keep top spot and finished 3.61 seconds ahead of the Dutchwoman, with Great Britain's Elynor Backstedt third.