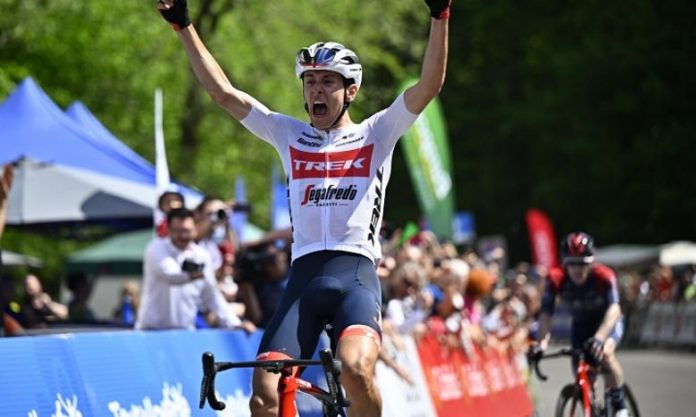 In a nail-biting finish, Antonio Tiberi secured the first professional win of his career on the fifth and final stage of the Tour de Hongrie.
With a right-hand corner just meters before the finish, there was a nervous wait to see who would emerge victorious at the top of the Kékestető. 
It wasn't a surprise that the 12.1-kilometer long climb, which is described as the hardest in Hungary, played host to a thrilling finale. The peloton was taking no risks and held the day's breakaway on a tight leash in anticipation of what was to come. 
The final three kilometers of the Kékestető had a gradient of eight percent and Antonio, who admitted that he wasn't feeling totally himself at the start of the stage, still had the faith of his teammates and was brought up to the front of the peloton with precision. 
Eddie Dunbar (Ineos Grenadiers) attacked off the front of a select group of climbers and GC contenders with around two kilometers to go and Tiberi reacted quickly to try and chase him down. 
As the duo came into view, it became clear that Tiberi had timed his effort to perfection, accelerating around Dunbar with just meters to go before punching the air with pure delight.
"I am very, very happy with this pro win. I lost a lot of time in the second stage, it was very windy, and for the GC I am sad for this, but very happy for the win," said Tiberi.