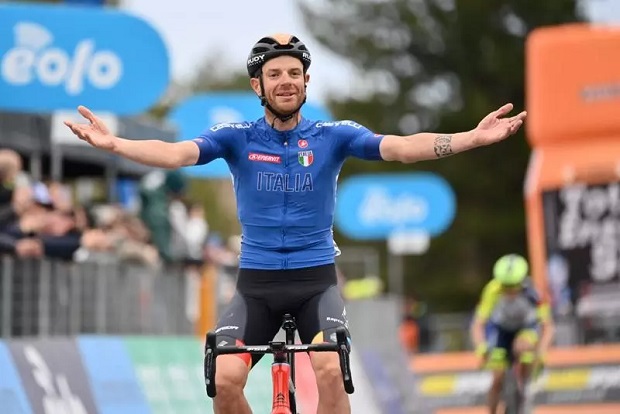 Damiano Caruso took the win in the queen stage of Giro di Sicilia and claimed the overall classification at the service of the Italian national team.
The day was meant for the climbers and there was no doubt that the battle in Mount Etna would decide the overall classification. As race leader Fran Miholjevic got dropped early on in the final climb, the Italian national team once again took hold off the peloton and in the first half reduced the peloton to a very small group in which Damiano Caruso further cut with an attack with 8 kilometers to go.
Followed by Vincenzo Nibali, Jefferson Cepeda, and later also Louis Meintjes, the group launched small moves towards the finale but only in the last two kilometers were there decisive moves. Caruso seemed to be in control of the situation for most of the climb, and in the final kilometer he accelerated away from his group companions to go for the stage win.
With his favourable position beforehand, Caruso conquered the overall classification aswell with a dominant performance in his home land. Louis Meintjes and Jefferson Cepeda completed the stage podium.
"I'm really happy. It's a dream come true. I'd never raced in Sicily as a pro and doing it now, while wearing the Italian national team jersey is really special," Caruso said.
"I have to thank my trade team that allowed me to ride the Giro di Sicilia. I did everything I could to be in good shape for this race and so we reaped what we sowed.