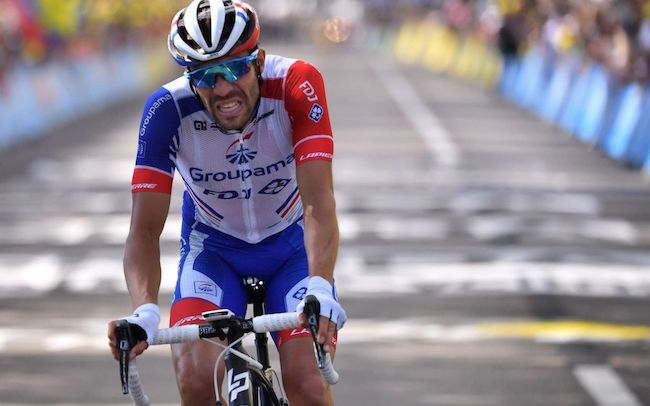 Thibaut Pinot has already managed to claim a lot of great victories in his career, but also had to deal with quite a few injuries and spectacular breakdowns. After a difficult period, the French climber's main objective is to regain pleasure while riding his bike.
Pinot has been the absolute leader of Groupama-FDJ since his breakthrough in 2012, but he no longer wants to carry all the pressure with him.
"I've now come to a point where I don't just want to talk about results. I just want to be 100% fit and find the joy and confidence again. I don't want to be the absolute leader anymore."
The French rider has not worn a bib since he left the Vuelta, in October. The back pain that rotted his Tour de France 2020 is not completely resolved. He has always been against the use of corticosteroids in racing but he had to have injections to help his body heal during the off-season. A choice that leads to reflection the 30-year-old rider, who denounces "two-speed cycling".
"From an ethical point of view, I have always been against it. There, we were in a period totally out of competition, in the middle of winter. I would never have done that between two races," Pinot says, adding that he didn't have an ethical problem with his decision as the use was "really in order to heal me". The topic is, however, one that continues to rile him.
"Of course, it pisses me off. I just saw that corticosteroids would be banned in racing in 2022. When you have an injection or you use cortisone, there are at least three weeks of effects…some [riders] do [it] just before the races. You are out of competition, but the effect is there.
"I'm the complete opposite of all of that, but we're still in two-speed cycling I think…a guy who has a TUE has no place being on a bicycle. He is not fit to compete."
"Since I turned pro, people talk to me about this, about that, then again about that…there's always something new coming up. I'm sick of it because when I see the effect the injection has had on my back, I tell myself that there are several races that I would have finished. My fall in the Tour last summer, the injury in 2019."
As for ketones, Pinot says the most concerning thing is that young riders are being contacted via Instagram by people trying to sell them the product.
"We don't really know [the true effect of ketones] but why do riders keep throwing their cans in nature and, on the other hand, the small vials of ketones, they keep them in their pockets?" Pinot asks. "I do not understand. We are told that it makes you lose weight, but the hardest part in cycling is not doing six or seven hours, it is precisely the weight, to lose weight while keeping your power and strength.
"Some studies say it dries you out, but if it is, it's already huge. Some runners are contacted on Instagram, canvassed to buy ketones. I tell myself that juniors, hopefuls, who are alone, young people who absolutely want to go pro, can be tempted, and that shocks me."