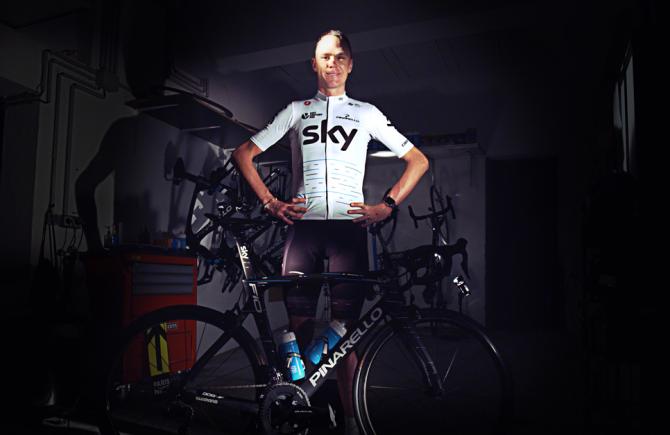 Team Sky have announced that their riders will be wearing a special edition white version of the Team Sky jersey at this summer's Tour de France.
The new design, which has been produced in partnership with Castelli, will still feature all of the elements which have made Team Sky riders so recognisable in the peloton, but with the traditional black jerseys swapped for a new, white design.
The jersey will continue to carry the distinctive data pattern featured on the 2017 Team Sky kit. And fans will have the chance to see their name featured on the jerseys worn by Team Sky at the Tour de France team presentation in Dusseldorf on Thursday 29th June.
Your name. Our jerseyWe've turned our jersey white for #TDF2017 and you have the chance to be a part of it!✏️ > teams.ky/YourNameOurJersey

Posted by Team INEOS on Thursday, June 1, 2017
A selection of fans will see their names printed into the blue line on the back of the jerseys which will be worn by riders as they are introduced to the crowds.
Speaking about the new Team Sky Tour de France jersey, Dave Brailsford said: "We have always admired Castelli given their heritage and our shared passion for innovation. That's why our kit this season reflects our history as a team and our ambitions for the future – with Italian flair and design. And our riders love it.
"Castelli also looked at different colours during the design process last year. We all loved the white. We are always up for doing things differently and decided the best time to unveil it would be at the Tour – the world's biggest bike race. We can't wait to get racing wearing it."
Chris Froome, who this year will be targeting a fourth Tour de France victory, said: "The backing we get from Team Sky fans means so much to the riders, and it really makes a big difference to us wherever we are racing. "Giving fans an opportunity to be right there with us as we kick off this year's Tour de France is just a small way for us to say thank you for that support."