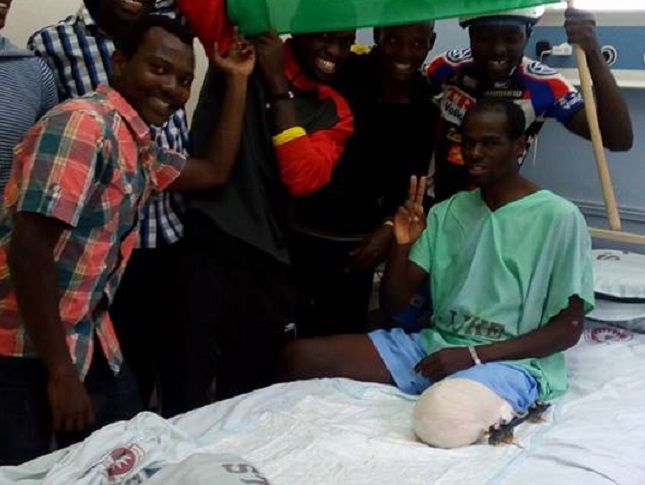 Kenyan Riders Downunder cyclist Samuel Mwangi has been amputated following a horrific accident he was involved in during the final stage of the 2016 Tour du Rwanda in Kigali.
Mwangi's teammates were expecting to receive their contracts for the 2017/2018 UCI cycling season. However, after this incident, they received a notice that Kenyan Riders Downunder team would no longer exist, leaving a number of riders with no options to continue in their profession.
"Due to his [Samwel Mwangi] serious injury Kenyan Riders Downunder has folded at the end of 2016.", Tom Coates, one of Mwangi's teammates, told Cycling Today.
"Because of all this happening so late none of us have been able to get rides on new teams for 2017. So I decided whilst lying in my hotel room at the Tour of Shanghai a week or so ago that I would start my own team for 2017 with some of the riders signed for KRD in 2017 including 2 of the Kenyans. I have secured kit, helmets, nutrition, tires, vehicles, and bikes are still in discussion. We have a few small cash sponsors but what we need is a naming rights sponsor or 2 more medium level sponsors.", Coates added.
"In 2017 the team aims to provide significant media coverage opportunities to all sponsors at all events in which the team competes. The team will work with an Australian Marketing and Media company to progressively grow and develop. This approach coupled with an extensive social media campaign will provide great opportunities for our partners to reach their target markets, effectively and efficiently."
Here are the main aims for the new team heading into 2017:
1. Set up a fund for injured rider Samwel Mwangi that sees the team run events to raze money as well as team riders donating a % of their prize money from each race to the fund
2. Win the Australian National Road Series both Team and Individual Classification.
3. 3 UCI Tour overall wins and 10 UCI Tour top 3 stage finishes.
4. Provide opportunities to a few of the Kenyan riders who have also missed out on teams for 2017
5. Qualify Team riders for the AUS Commonwealth games track team.
Mwangis Story
"Earlier this year, one of the 2016 team riders Samwel Mwangi (Kenya) was injured badly whilst competing. Mwangis injuries where so extensive he required massive surgery and the amputation of his leg", says Tom Coates.
"Due to the lack of disability care provided in Kenya, the team moving forward into 2017 will set up a fund, raising money for Mwangi and his family, through events as well as a percentage donation of all prize money won by the riders throughout the year."