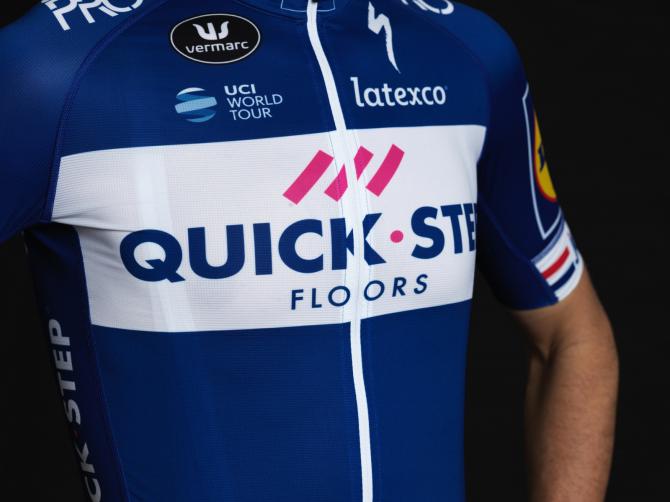 Luxembourg Champion Bob Jungels and Paris-Roubaix winner Niki Terpstra modelled the kit that the Quick-Step Floors team will wear in the upcoming season.
For next season's jersey, Quick-Step Floors opted for royal blue and a smooth and elegant design which remains true to the team's heritage, but is also as sleek as possible and easily recognizable in a 200-man peloton.
Not only the design and the color are different, also a few elements have made their way on the back of the jersey, such as the name of the rider wearing the kit and the "Wolfpack" theme, which has become Quick-Step Floors' mantra ever since sports director Brian Holm coined it a couple of years ago.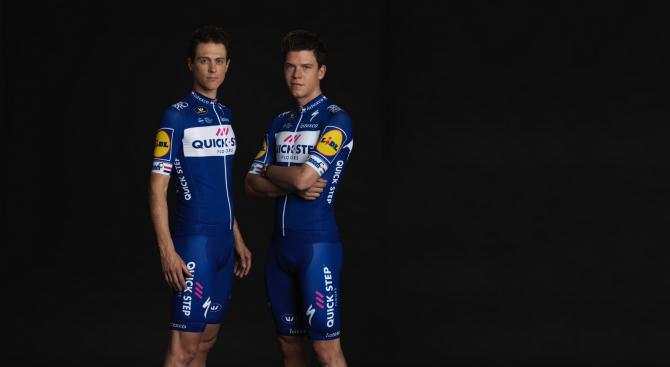 "It's a really beautiful jersey, elegant and a bit more vintage than in the last years. I love it! I also like how 'The Wolfpack' has become a visual thing now and is part of the jersey. It's already a sign, a symbol of our team, it's unity and I think that it represents the squad really well. I'm super excited about the new kit and I can't wait to show it in my first race of next year", said Luxembourg Champion Bob Jungels.
The clothing is produced by technical sponsor Vermarc Sport, who has been with the Belgian team since 2003 and will continue at the side of Quick-Step Floors in this new chapter that will soon unfold, after signing a two-year contract extension, to the delight of both Marc Verbeeck and Patrick Lefevere.
"Straight from the start of the team, my father, Frans Verbeeck, was convinced that the collaboration would be a big opportunity for Vermarc Sport. From that day until now, the partnership became a fruitful win-win situation for both parties with a big emotional value", said Marc Verbeeck.
"Because of the long-term relationship, the alliance does not feel like a pure business deal. The contacts with the team became more and more familiar, there's direct feedback from the staff and the riders towards Vermarc Sport and this helps us to optimize the current products and to develop new cycling apparel. Another big advantage is that the name Vermarc Sport is exposed everywhere in the cycling world. As partner of one of the biggest cycling squads, our brand grew combined with the image of the team", concluded Vermarc Sport's CEO.