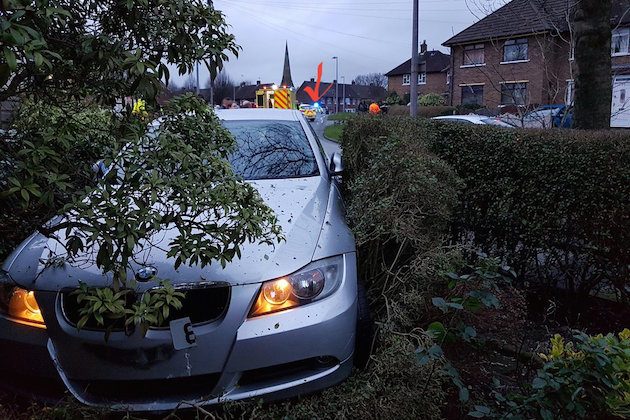 A learner driver hit a cyclist and in Manchester and came to a halt about 60 metres after the initial collision, crashing through a hedge.
The dramatic picture shows how the BMW ended up in shrubbery. Officers said the car hit a cyclist and then veered off the carriageway with the shocked cyclist still on the bonnet.
"Driver cutting the corner collided with a cyclist indicated by the arrow, left the carriageway with cyclist still on the bonnet before stopping in a garden 60m on," read the caption on the photo.
A GMP spokesman later confirmed that the cyclist suffered only minor injuries in the collision. No-one else was hurt.
The police also say that the driver is being prosecuted for driving without due care and attention.
Meadowgate Road, Salford this morning. Driver cutting the corner collided with a cyclist indicated by the arrow, left the carriageway with cyclist still on the bonnet before stopping in a garden 60m on. Driver reported for due care and drive otherwise as learner driver. S165 pic.twitter.com/NIia9Xzhf4

— GMP Traffic (@gmptraffic) January 23, 2018