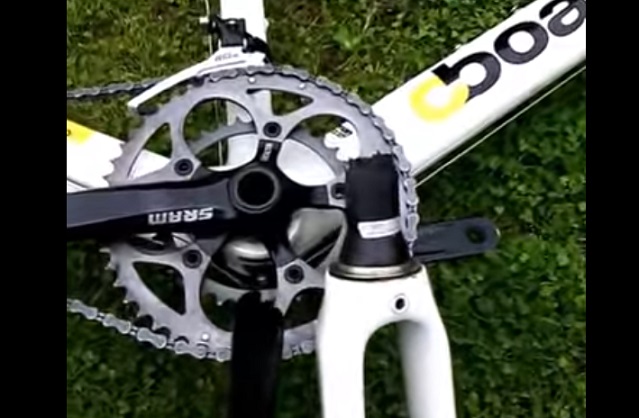 A hidden flaw in his $4000 bike, undetectable by mechanics, caused the death of Richard Stanton in Canberra, Australia.
After his story was published on cycling.today, we received many other stories about similar accidents which could have ended in the same tragic way.
Here's the story of Ian Johnson, a 46-year-old cyclist who had a very similar accident last December.
"I had a very similar accident last December- catastrophic failure of my fork steerer, luckily I survived receiving only sprains abrasions, damage to my neck and a period of unconsciousness.
I am an experienced cyclist 46 years old. I had owned the bike from new and it had been festidiousy cared for. It was 5 years old and never damaged. The manufacturer and dealer did not want to know. It has taken me a long time to regain my confidence. I did some searching on the internet and no one seems able to give a good answer about how long these parts last for or when they should be changed. It is a real concern people are being maimed killed and no one seems able to give a guarantee that the parts will last.", Ian told Cycling Today.
"Whilst riding my Boardman limited edition team carbon on the 06.12.15 on the Old West Coast road my forks suddenly failed whilst I was riding at roughly 28kmh my usual cruising speed. The road was smooth and the weather conditions were good sun and a moderate headwind.
At the time of the catastrophic and unexpected failure of the forks I was seated with my hand on the brake hoods, my normal riding position. Initially following the failure I was left with the handlebars in my hands. The forks lurched forwards. At this point I realised I had no control and tried to unclip my right foot. The last thing I recall was the bike beginning to fall over to the right and putting my hands out. I can only surmise that as I ended up with my feet facing the direction of travel I completed some sort of shoulder roll on impact with the course tar seal.
The next thing I remember is coming waking up in the middle of the road and moving as quickly as I could to the grass verge having collected my bike from some way behind me and to the left of where I landed.
On closer inspection I realised that the fork stearer tube had failed above the insert in it coming up from the forks and was horrified. My cycling gloves, shorts and jersey were damaged my helmet also showed signs of contact with the road".
This may seem alarmist, but let's admit that there is no easy way to dismiss the risk of a catastrophic failure for any fork at the moment. While many riders will be quick to appreciate the importance of replacing an aging fork, most will be left wondering when to do it and there is no easy answer to this question.