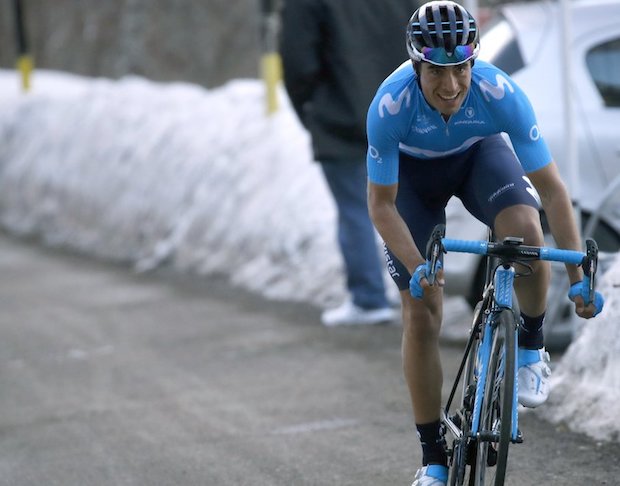 Mikel Landa took his first win for Movistar at Sarsano Sassotetto ski resort on the queen stage of 2018 Tirreno-Adriatico.
"Yeah, maybe I can consider moving to Movistar a kind of marginal gain," he said sincerely when it was put to him.
"Maybe I'm happier; perhaps that is because of the way we ride. It's better for me, it's a better way for me to ride as we saw today. It's different, there's less control and more chance to attack.
"It's a cultural or character difference," he said. "This team is closer to who I am. The way we do things [at Movistar] are different, even the way we eat and the way we joke around."
"The team was phenomenal all day. The guys protected Rosón and myself really well all day before the finishing climb. We knew there could be some riders who would go on an attack from further down the climb, but we chose to let other teams work a little bit – it was a long climb, and jumping from so far from the finish could be suicidal.
"Sky had the numbers at the front, and we waited for the right moment to make my move. With less than 4km to go, I decided to go after the riders who were leading – if it didn't stick, we still had Rosón behind. The strategy was perfect in the end.
"I'd like to finish on the podium," Landa added. "It's going to be difficult because the others will do better than me in the time trial [on Tuesday] but we'll see what happens in the final stages."