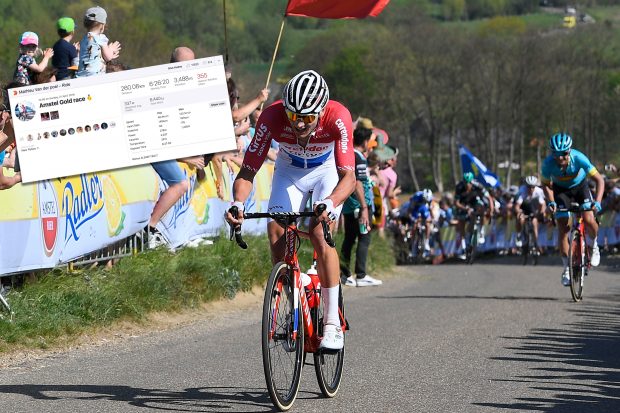 Mathieu van der Poel has uploaded to Strava the stunning numbers from his incredible victory in Amstel Gold Race, one of the most incredible displays of individual strength that we've ever seen.
The cyclocross world champion averaged 40.4 km/h with a monstrous weighted average power of 337 watts for the six and a half hours he was in the saddle.
The race really began to come to life in the final 95 km as the efforts continued to build up and the pace got higher and higher. For the last 2 hours 12 min, Van der Poel averaged 318 watts with an average heart rate of 161 bpm and cadence of 86 rpm. The average speed for the last portion of racing was 43 km/h.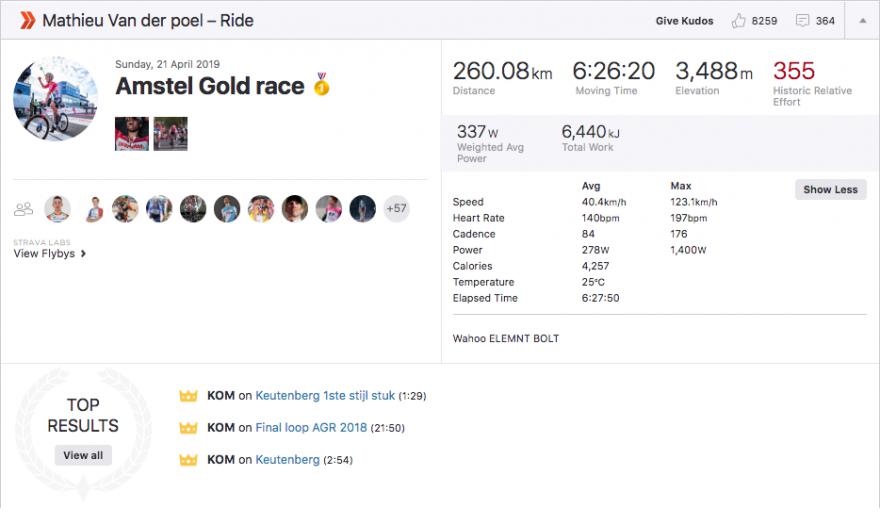 Van der Poel's comeback was not just about the last few hundred meters. With 5km to go, the Dutch rider and his group were still facing a deficit of nearly 45 seconds to Jakob Fuglsang (Astana) and Julian Alaphilippe (Deceuninck – Quick-Step).
In the 7km, Van der Poel averaged 400 watts for over 10 minutes. Those numbers are not out of the realm of possibility for amateurs, but that power was after 250km of racing.
He rode at 57.4kmh average on the front of the chasing group coming into the final straight, averaging 659w (9.02w/kg) at 190bpm. As he came close to making the catch he then launched his sprint, hitting a whopping 1,400w max power output, averaging 1,186w in the final 200m.
FULL STATS
Height: 6 feet (1.84 meters)
Weight: 165 lbs. (75 kg)
Total Time: 6 hours 26 minutes
Distance: 161.6 miles (259.1 kilometers)
Average Speed: 25.1 mph (40.4 kph)
Elevation Gain: 11,444 feet (3488 meters)
Work: 6,440 kJs
Average Power: 278 W (3.7 W/kg)
Average Weighted Power: 337 W (4.5 W/kg)
Max Power: 1400 W
Average Heart Rate: 140 bpm
Max Heart Rate: 197 bpm