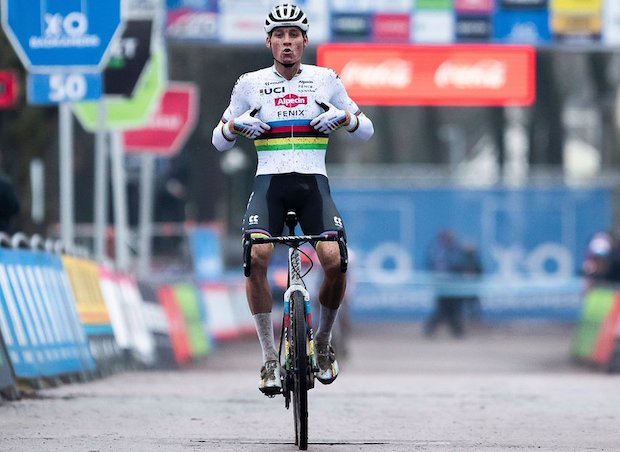 Mathieu van der Poel has not forgot how to win a cyclo-cross race and on his return, the world champion was again dominant as before.
The Scheldecross was dominated by the return of Van der Poel after almost a month and a half of rest. After ten minutes of cyclo-cross, the Dutchman was able to remove all the question marks.
After an eager start, Van der Poel moved away from Eli Iserbyt. He immediately took a handful of seconds on Iserbyt, who had to catch his breath and was quickly joined by Hermans.
Still, it became exciting again in the third round. The world champion fell ugly on one of the sandstrips and saw the two pursuers approaching again to within five seconds. Van der Poel recovered quickly, although he was no longer able to extend his lead over Iserbyt, who had since distanced himself from Hermans.
In the fourth round, the European champion rejoined the world champion. A truce between the two fighting cocks followed. It gave Hermans, Pidcock, Michael Vanthourenhout, Toon Aerts and Laurens Sweeck the space to return to the front.
Later, the Belgian and the Dutch attacked again, this time for the final time. Van der Poel snapped the elastic to Iserbyt towards the end of the penultimate lap, sprinting away to victory. Tom Pidcock made the final place on the podium.
"It went better than expected," Van der Poel said after the finish. "I was pretty good from the start, but my spring broke when I crashed. After that I didn't drive that fast in the sand.
"The rest of the course went very well for the rest. I didn't feel like I was on the limit yet. I still had surplus energy when I was in Iserbyt's wheel."