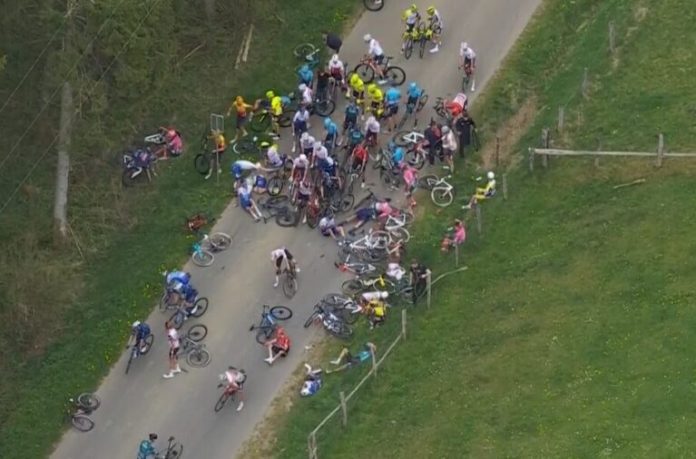 Julian Alaphilippe was involved in a large crash 60km from the finish in Liege-Bastogne-Liege and had to abandon the race, after which he was taken by ambulance to a hospital.
The world champion was left in a ditch, with Romain Bardet (Team DSM) so alarmed at his compatriot's crash that he walked down a steep slope to check on him, rather than set off in pursuit of the peloton.
Alaphilippe was conscious when he was treated in the ambulance, with him and Ilan Van Wilder among the wounded taken to hospital.
"During the incident, Ilan has unfortunately suffered a broken jaw, in a crash that saw a mass pile-up in the middle of the peloton, 62 kilometres from the finish," read a statement from Quick-Step team.
"In the same incident, world champion Julian Alaphilippe suffered two broken ribs, a broken scapula and a hemopneumothorax [collapsed lung with complications]. His condition his stable, but will need to be hospitalised for observation.
"Both will travel by ambulance to Herentals [in Antwerp, Belgium] for further examination and treatment."