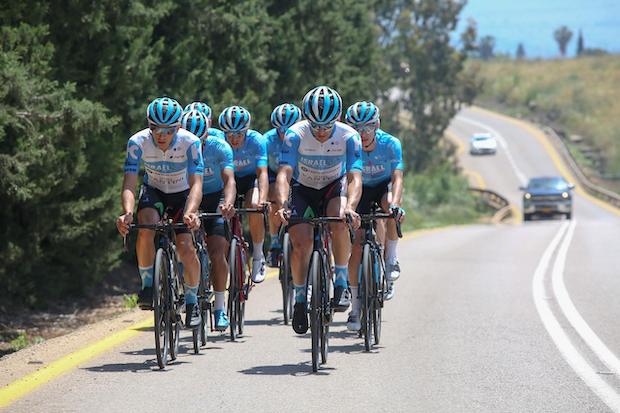 Israel Start-Up Nation plans to restart the season in the Sibiu Tour (July 2-5), which will also serve as a testing ground for racing under "Corona protocols" to protect the health of the riders and staff.
"It's great for the riders and the team to have a few races to look forward to during July," explained the team's Pro manager Kjell Carlstrom. "There we can make sure that we are on the right track with everything regarding a safe restart of the race calendar. We will be racing with mixed teams – ISN WorldTour team and our Continental Israel Cycling Academy team and make sure that all our protocols are working well."
The team had first tested those Corona protection protocols for the first time during its training camp in Israel last week. It was the first camp held by a professional cycling team since the corona crisis brought the season to a halt. It now plans some more regional mini-camps in Israel and other areas in Europe before the season starts.
"The traditional model of one big training camp for all is not realistic at this time", said Carlstrom. "So, we will need to adapt."
The Sibiu Tour will be held from July 2 till 5th, which means that ISN will restart the season in early July and continue with 3 stage races: Tour of Sibiu, Dokola Mazowza in Poland and the Spanish Vuelta Burgos.
The July races, and especially the Sibiu Tour, will be the first test for Israeli riders to prove themselves that they are ready to make it into the Tour de France line-up, which set to be a crucial milestone for the Israeli team that never raced the Tour before.
Given the fact the UCI has crammed all races into a period of four months, it will be a different season than we are used to, according to Nils Politt.
"Spring classics now became autumn classics," the runner-up of Paris-Roubaix 2019 says. "It is going to be a different kind of preparation for sure: no December and January training camp and the Tour de France finishing just before the start of the 'classics-season.' This will require planning."