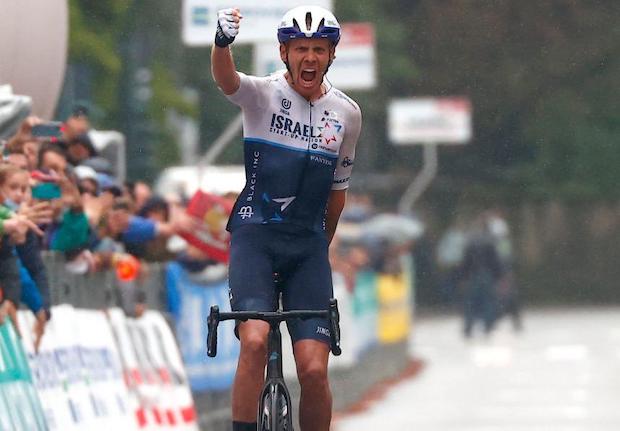 Alessandro De Marchi (Israel Start-Up Nation) won the 2021 Tre Valli Varesine, holding off compatriot Davide Formolo (UAE Team Emirates).
Tadej Pogacar (UAE Team Emirates) finished some 38 seconds behind the lead two, at the front of a chasing group.
"Very sweet, especially because so many people had written me off and said that I was finished", said De Marchi.
"What happened today was a bit of revenge. Showing everyone that I am not too old. That I still have what it takes. Those were long months, I did everything possible to speed the recovery and try to be back to my best – and today it all came together, making it a SUPER day. With a day like that, you just have to be brave and to believe in yourself and don't be afraid to put your cards on the table. Many guys today were thinking that it was time to be smart, don't ride, don't follow, don't spend energy, but on this day, you just have to be courageous and believe in yourself."
In the last 10 kilometres De Marchi and Formolo rode together, followed by a chasing group including Pogacar, Nelson Oliveira, Benoît Cosnefroy, Aurélien Paret-Peintre, David Gaudu and Lorenzo Rota. With 2 kilometres to go, De Marchi and Formolo's lead was almost 30 seconds, making things look good for the leading duo.
Formolo tried to get rid of De Marchi on the uphill, but he wouldn't crack. In the end, De Marchi turned out to be the better of the two and the Italian won the Tre Valli Varesine's 100th anniversary edition.
De Marchi succeeds Primoz Roglic, who was the last winner in 2019. Last year, due to coronavirus, the Italian one-day race with the Coppa Agostoni and the Coppa Bernocchi was brought together into one race, the Grande Trittico Lombardo.