Neilson Powless, 20, established himself as a top rider in 2016, winning Joe Martin Stage Race p/b Nature Valley, the queen stage in Tour de l'Avenir, a time trial in Tour de Beauce and Tour of California's best young rider jersey.
Cycling Today: Neilson, how would you describe your 2016 season?
Neilson Powless: To everyone else, it was sort of a breakout season for me. But for me and my coach, Todd Herriott, it was confirmation of all the work I put in the years before and through the winter.
You raced many big races, so I'd like to know what caught your attention while riding against the top pros?
You always pick up little things here and there. Just as far as when to eat and how much better you can get saving energy. Things like not moving up on your own all the time – but staying with a  teammate and letting him do the work – while being watchful of opportunities. An example of this is when Julien Alaphilippe was going for the time bonuses on two or three stages at the Amgen Tour of California. I learned it's worth it to go for them. Sometimes, those time bonuses can make or break a win. Like in 2015 when Alaphilippe lost the Tour of California to Peter Sagan by one or two seconds. So it's always good to go for seconds when you can. So I learned little things like that.
Your breakthrough result came at the Tour of California. What meant for you to finish in the top 10?
It was an incredible feeling for sure. I think that is going to be one of the results that will stick out for the rest of my career, no matter what else happens.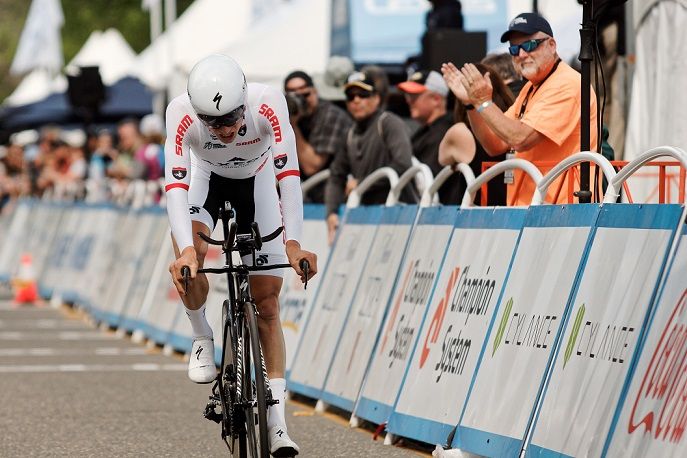 Watching the Amgen Tour of California when I was young was a privilege. It was always exciting to get taken out of school to go watch it. Finally being able to race it was amazing. I wasn't really thinking too much about the level of the race when I was competing in it. I wasn't letting it get to my head that I wasn't on the same level as the other guys. I just tried to remember that we were all pinning numbers on our back. We are all just bike racers trying to win. That really helped put me in the right mindset to go for results.
Did you feel that the result brought not only a bigger interest from the media and fans, but also extra pressure, as now people are talking more and more about you as a future Grand Tour star?
It wasn't until after the stage to Gibraltar that I started to realize what a good result it was. I didn't exactly feel extra pressure. But I certainly started hearing from more teams and more people who thought I could be racing in the WorldTour. But I knew all along that I needed to come back for another year in the U23 ranks. One big result does not make you ready for a career on the next level.
At the other end, is there a race which has left you disappointed?
While the Amgen Tour of California was a big highlight for me, it was also one of my biggest disappointments in another way. I dropped four places on general classification when I got caught up in a crash in Sacramento. Without that time lost, I would have finished fifth. That is definitely viewed a lot differently than finishing ninth. But either way, I still won the best young rider jersey.
What improvements do you feel you made last year?
When I look back on 2016, I will always remember how well I performed on the stage up to Gibraltar. I learned a lot about myself that day. I learned how to use my energy that day, how to focus on the win rather than just getting some publicity.
Did you get any offers from the WorldTour teams after your excellent display at the Tour of California?
Yes, but I knew I wasn't ready to go to the next level.
Now you are preparing for this season. How are things going?
Team camp was a real refresher for me. It's a chance to get back in the swing of things – be it training or even doing media appearances. The eight new guys we have on the team are great and getting new bikes and new kits always makes its feel like Christmas. The weather the first half of camp was a bit wet, but the sun was out for the rest of camp.
What are your plans and goals for 2017?
I want to keep improving on everything as a cyclist. I want to increase the numbers I see on my computer wattage screen. I want to get better at descending. I want to get better at fueling during a race. I want to keep stretching and improving and doing core. So you can always improve on everything.
I may have done a lot last year, but there are still many things I have to learn and so many races I still want to do. I want to get stronger at the one-day races in Europe. I haven't had much practice on them. I want to do them again so that when I move up to the next level, it can be more of a smoother transition and I will have a few of those knarly races in Europe under my belt.
I am definitely not satisfied with last year. I can always do better and get stronger.
Which pro cyclists inspired you when you were growing up?
Greg LeMond, definitely, because he was the first American to win the Tour de France. He had that underdog type attitude – probably because Americans have not been in the top of the sport as long as the Europeans.