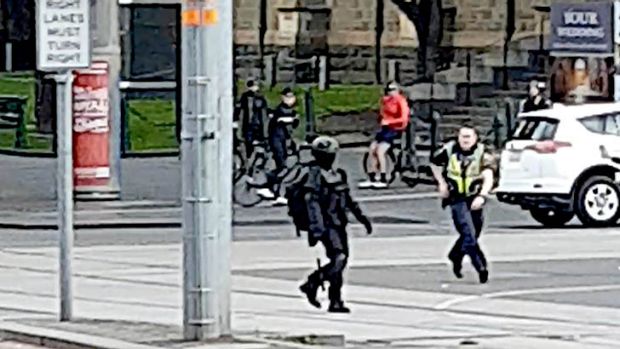 A quick-thinking man has thrown a bicycle under a vehicle in a bid to stop a 15-year-old driver armed with a knife from running down pedestrian in downtown Melbourne, Australia.
Video footage taken by passers-by and posted online shows the green four-wheel drive reversing at speed before spinning 180 degrees.
Crazy dude in a RAV4 going nuts in the city

Posted by Jean-Daniel Guerin on 29 Septembrie 2017
A member of the public threw a hire bike under the car to try to stop it, while police rushed to the area.
After one police officer tripped and fell backwards, the teen lunged at him with what appeared to be a large baton, prompting the Critical Incident Response Team to gang tackle and taser the teen, before arresting him.
Witness Nik Jerkovic was waiting for a tram on Flinders Street when he heard the screeching of tyres. He saw the driver of the RAV4 do burn-outs for several minutes before a man who appeared to be in his 20s threw an oBike under the four-wheel drive, bringing it to a stop.
"That brought the car to a stop, otherwise he would have killed," Mr Jerkovic said. "He was on mission to kill."
"It was very, very threatening, especially as it looked like it could have had explosives in it," he said. "It was extremely threatening."