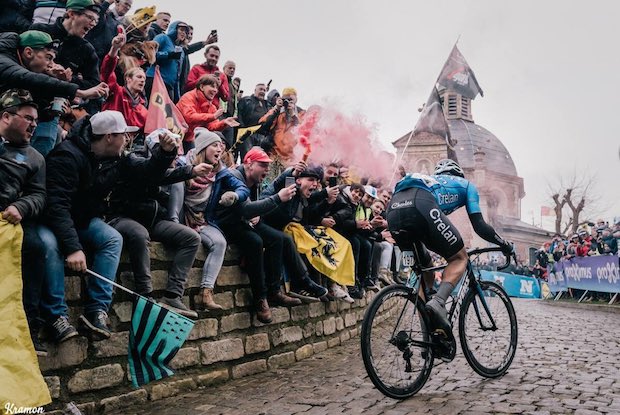 (AFP) – The death of 23-year-old Belgian Michael Goolaerts from cardiac arrest during Paris-Roubaix has pushed heart monitoring of professional athletes under the spotlight.
Goolaerts was pronounced dead at a hospital in Lille late on Sunday hours after suffering heart failure and crashing, on his own, during the 257-kilometre race.
Goolaerts' death on his Paris-Roubaix debut has also raised questions: is enough being done by professional teams and the sport's world ruling body, the International Cycling Union (UCI), to prevent such tragedy? Can 'unseen' heart conditions, which have claimed the lives of many athletes over many different sports, ever be fully detectable?
"According to the current rules of the UCI, teams are obliged to carry out physical and cardiological examination and monitoring (of their riders)," said French doctor Francais Armand Megret, a member of the UCI's medical commission.
Jacky Maillot, a doctor with the Groupama-FDJ team, underlined that point: "In accordance with the UCI rules, every year we must put our riders through the most gruelling heart stress tests in order to obtain a medical certificate that has no contraindications (that would prevent riders from competing). The top-level riders also undergo a heart echography once every two years."
Despite a battery of tests, some heart defects simply cannot be detected, according to the experts.
"These tests are never 100 percent," Kris Van der Mieren, a member of the medical commission for the Belgian cycling federation, told AFP.
"Even the world's best cardiologist, carrying out all the available tests — a heart ultrasound, an electrocardiogram — would be unable to detect certain anomalies.
"The only thing we can do is make sure every rider is monitored very closely."
For the Belgians, Goolaerts' death from cardiac arrest at such a tender age will prove particularly poignant.
Only two years ago, 22-year-old Daan Myngheer suffered a heart attack and died while racing in the Criterium International.
In 2009, Frederiek Nolf was just 21 years old when he was found dead in his hotel room at the Tour of Qatar from a suspected heart attack. That tragedy was reminiscent of the death of Frenchman Fabrice Salanson, who was found dead following a suspected heart attack at the Tour of Germany in 2003.
When tests reveal a heart anomaly, the UCI's medical rules stipulate that "any impending decision is transferred to the doctor in the team," explained Megret.
Such a case came to light in 2016, when Belgian Johan Vansummeren, then aged 35, was sidelined by his team AG2R after tests revealed heart problems. A former Paris-Roubaiux winner, Vansummeren retired only a few weeks after AG2R's decision.
For Dr. Megret, there is one improvement that can be made: transferring any final decision to an external, independent expert.
"When a heart defect or anomaly is detected, it is the team doctor who makes the decision. But I believe an independent expert should determine which tests are carried out and who makes the decisions," he added.
"Our objective is to detect the risks involved, which tests must be done to detect them, and once the defect is found, which preventative and protective measures can be taken and how they can be integrated into the regulations so they can be applied," he added.
Christophe Brandt, manager of the Belgian team WB-Aqua Protect-Veranclassic, told AFP: "I don't think there's been any lack of foresight. First of all, we have to wait for the autopsy results (to determine if the heart attack was caused by or was the cause of the crash).
It happens to everyday people every day, we can't just focus on the fact he was a top-level athlete. Maybe it's simply another fatality."