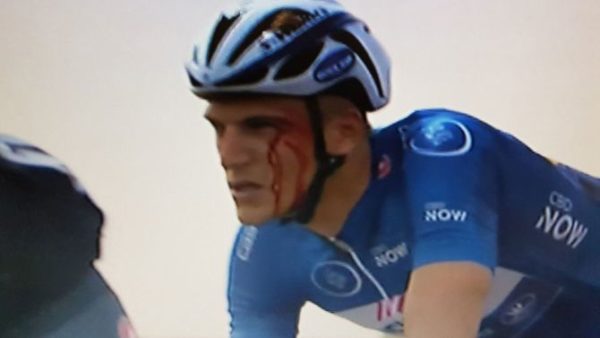 The UCI's Disciplinary Commission has suspended Andrey Grivko for 45 days from 1 May to 14 June 2017 following his aggression against Marcel Kittel (Quick-Step Floors) during the Dubai Tour last February.
Grivko allegedly hit Kittel with the elbow in the face, breaking the latter's glasses and leaving a bloody gash. The only images that were available of the incident show the German with half of the face covered in blood.
The Ukrainian was expelled from the race that same day, even though he had stated that Kittel was the one that started the row by spitting in his face. Now he will be out of the Tour of Romandie, which was next on his schedule.
"In fighting for position, and as it was confirmed by Kittel himself, he has roughly pushed with his shoulder [first] my teammate Dmitriy Gruzdev, and then me, creating a very tense and dangerous situation that could cause not only my fall, but a big crash in the peloton," Grivko said after the incident.
"Perhaps I got emotional, and it has nothing to do with cycling, but in extreme situations, when exists a question of safety, it is difficult to stay calm."
Selon son manager, Marcel #Kittel aurait pris un coup dans l'arcade par un autre coureur.#dubaitour #lequipeVELO
pic.twitter.com/pjSWgi3zLx

— Johan Rouquet (@johan_rouquet) 2 februarie 2017