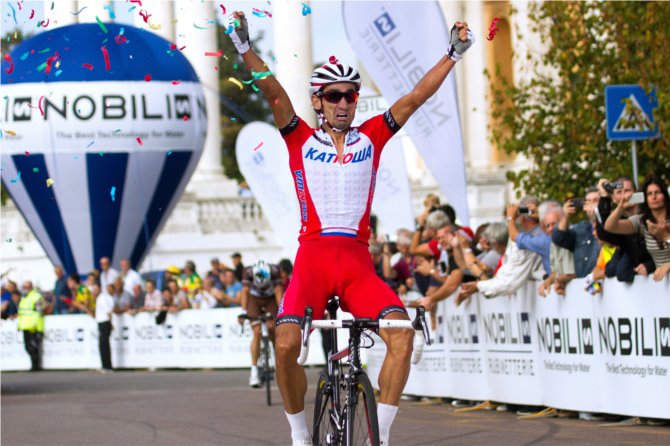 The UCI has announced that former Katusha rider Giampaolo Caruso has been handed a two year suspension due to a previous positive test for EPO.
The positive test was first announced in on August 18 2015, with the UCI stating then that a reanalysis of an earlier out of competition test from March 27 2012 had revealed the presence of the banned substance. He was provisionally suspended then.
"The Union Cycliste Internationale (UCI) announces that the UCI Anti-Doping Tribunal has rendered its decision in the case involving Giampaolo Caruso," it said on Friday. "The matter resulted from the reanalysis of a sample provided by Giampaolo Caruso in the scope of an out-of-competition control on 27 March 2012, which revealed the presence of Erythropoietin. The Anti-Doping Tribunal found the rider guilty of an anti-doping rule violation and imposed a 2-year period of ineligibility on the rider."
While a first offence now results in a ban from competition of four years, the shorter suspension in this case reflects the rules in force at the time of Caruso's positive test.
Since he was provisionally suspended on 18 August 2015, Caruso's ban is mostly backdated and will therefore expire in three months' time on 17 August.