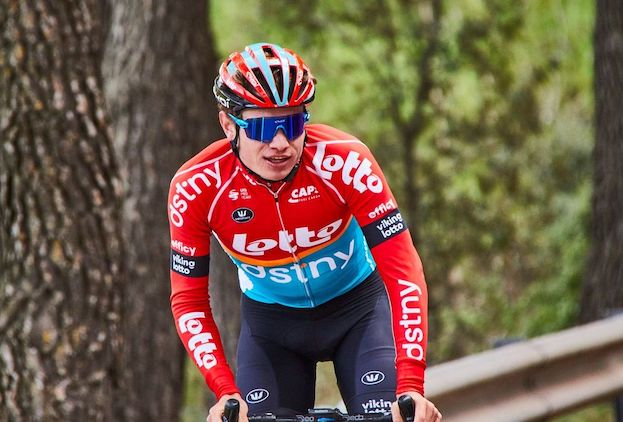 Lotto Dstny has put young rider Lennert Van Eetvelt on hold for the time being after an "alleged violation of the anti-doping law" during the Tour des Alpes Maritimes.
The substance referred to is a nasal spray that is freely available and allowed in competition, if mentioned during a control and when its use is in accordance with the package leaflet.
"My world was turned upside down yesterday," Van Eetvelt said through his team. "No rider wants to receive such a letter. I don't really understand what happened."
"On the doping control I clearly stated that I was taking the nasal spray, as I have done before in my career. I am not aware of any wrongdoing and hope this is just a mistake and this nightmare disappears soon." Van Eetvelt took the nasal spray in consultation with his medical guidance, Lotto Dstny said in a press release.
The team is therefore firmly behind its rider and has confidence in a good outcome.
"We have heard our rider and the medical staff and are confident in a good outcome, but we are following the established procedures and are therefore temporarily suspending Lennert pending further investigation. We emphasize that this is in no way a condemnation, but merely the application of the MPCC guidelines. It also gives Lennert time to substantiate his file as well as possible", said the Belgian team.
Van Eetvelt is in his first season with the pro peloton and is known as a great climbing talent. This year he was already noticed with a second place in the Trofeo Serra de Tramuntana and a third place in the Trofeo Andratx. He also finished fifteenth in the Volta a Catalunya and 22nd in the Fleche Wallonne.