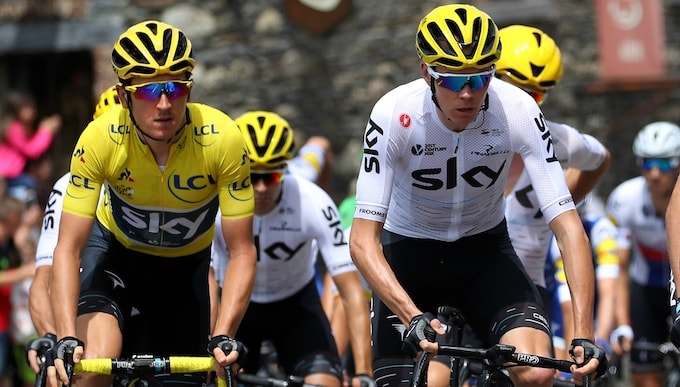 Geraint Thomas, whose selfless riding helped Chris Froome to four Tour de France titles, believes Team Sky engender more hate in France than anywhere else, he told The Times.
The 32-year-old Welshman — who was crowned British time-trial champion on Thursday — will once again ride alongside Froome at this year's renewal of the great race, which starts Saturday week.
Thomas expects a rough reception from the spectators, whose antipathy towards the British team has been exacerbated by the unresolved inquiry after Froome had twice the permissible amount of asthma drug Salbutamol in his system during September's Vuelta a Espana, which he won.
The febrile atmosphere surrounding Froome's participation in the Tour has been stoked by Bernard Hinault labelling the Kenyan-born rider a "cheat" and urging other riders to go on strike in protest at his presence.
"It just seems that there's more hate towards Team Sky (in France)," he said. "But it's only the minority, it's not like it's the majority.
"The Tour brings out a lot more people -— and people who aren't even fans, people who just want to go and give people abuse, really."
Thomas, who tells the paper he is likely to resolve his own future soon but would not reveal who he is thinking of signing with, said verbal abuse is part and parcel of the sport but should not go beyond that.
"It's if they start touching riders, getting in the way of the race or throwing stuff at people, that's when it gets too far," he said. "But when it's just a bit of fancy dress or verbals, it doesn't affect me at all really."
Thomas, who prior to the time-trial success warmed up for the Tour with victory in the Criterium du Dauphine, said being part of a successful team compensates for the abuse.
"You've just got to deal with it, but if you look at other sports, like football, they get a lot more abuse than we do, so it's not too bad," he said.
"For sure it gets frustrating, but at the end of the day I'd rather be getting that abuse and be in a team that's winning than not get the abuse, everyone loves me and be in a team that's coming fourth or fifth every year."
Thomas said Froome's chances of adding a fifth Tour de France title — which would be his fourth successive Grand Tour victory — are good and that the Sky leader never gives up hope, as he demonstrated with a miraculous ride in the 19th stage of this year's Giro overturning a deficit of more than three minutes into a lead of 40 seconds.
"In the first week, anything can happen, so I'm just trying to get through that as best as possible and once we're in the Alps the picture will be a bit clearer," said Thomas. "Obviously, after the Giro, we don't quite know how Froomey will be going.
"You know that he's always going to empty the tank. Some guys can kind of throw in the towel but even if he has a bad day he just keeps fighting.
"The Giro showed that. He's obviously just a nice guy as well, which makes riding for him a lot easier."