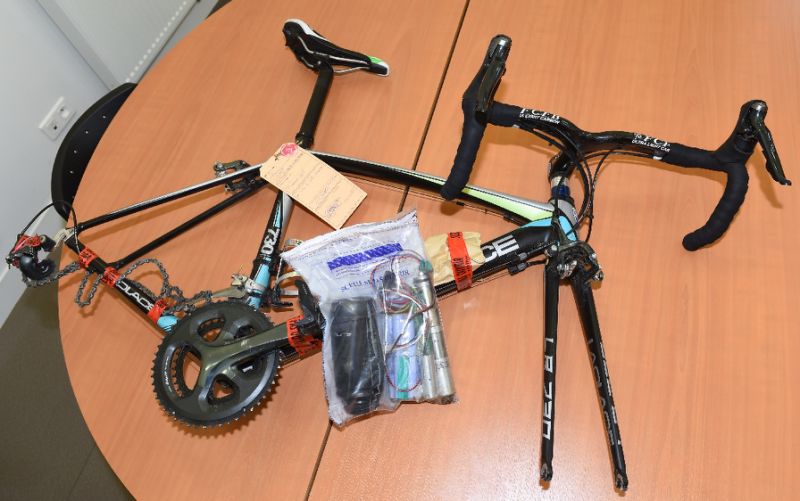 An amateur cyclist caught riding a motorised bicycle could be charged with fraud, a local French public prosecutor said on Monday.
The 43-year-old, who hasn't been named, was snared in a targeted sting operation on Sunday run by the Perigueux public prosector alongside French cycling and anti-doping authorities.
Jean-Francois Mailhes, prosecutor for the south-western commune, said "the cyclist justified his actions by claiming other riders were using various methods" to cheat and that he "wanted to level the playing field".
Mailhes said the cyclist admitted to using the bike in five races since August 21, "earning around 500 euros" in prize money.
He said the bicycle motor was bought in France but the frame came from China. Both were procured online for a total cost of around 3,000 euros ($3,500), Mailhes added.
The cyclist had been deliberately targeted after a dramatic recent improvement in his results.
He is the third person to have been caught riding a motorised bicycle in competition, something known as technological or mechanical doping.
In January 2016, Femke Van den Driessche became the first competitive cyclist to be found using a motorised bike at the junior world cyclo-cross championships, an offence which saw the Belgian national junior champion cop a six-year ban from the International Cycling Union.
In July, 53-year-old Italian Alessandro Andreoli was caught out at a race in Italy following a tip-off to organisers.
Although organisers claimed he'd admitted to using a motorised bike after a thermal camera had been used to identify a motor, Andreoli later pleaded innocent to La Gazzetta dello Sport newspaper.
He claimed his recent upsurge in fortunes on a bicycle had been due to overcoming "back pain" and "training hard".
The French cyclist told a local radio station, France Bleu Perigord, that he'd cheated "not to win races or earn money" but rather to help him get over sciatica and a herniated disc, claiming it helped "reduce pain at the end of races".