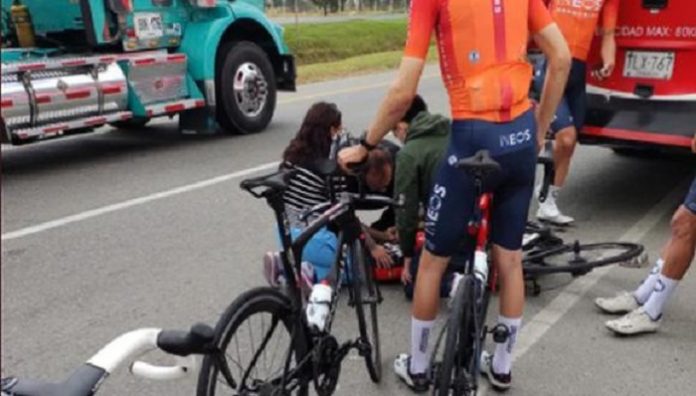 Egan Bernal was "conscious" and "stable" in hospital following a training accident with a bus in his native Colombia, his cycling team Ineos Grenadiers said on Monday.
Pictures shared on social media showed the 25-year-old Giro d'Italia champion lying on the ground surrounded by teammates. The back of a bus with a huge dent in it is visible in the picture.
"Bernal… was accompanied to hospital by Team medical staff and was conscious upon arrival. He is stable and undergoing further assessment," said Ineos.
The 2019 Tour winner suffered "multiple lacerations" and was receiving treatment in a clinic, the local transport police said, adding that he ran into the back of the vehicle as it pulled up at a bus stop.
The accident happened in the town of Gachancipa, around 30 kilometers from the capital Bogota.
"The Clinica Universidad de La Sabana can publicly inform that Egan Bernal was admitted to the emergency unit this morning via an ambulance," read a statement.
"At that moment, he was examined across the board by specialists. In light of the findings, he must undergo surgery in the coming hours due to multiple injuries: vertebral and thoracic trauma, blunt trauma of the thorax, musculoskeletal trauma, and trauma to the lower limbs. For the moment he is haemodynamically stable. We hope for the best in his clinical outcome."
Just a few days earlier, Bernal posted a video on his social media accounts showing a near miss with a car while out training with teammates, and criticized the driver.
Bernal recently signed a contract extension with Ineos until 2026 and wanted to return to the Tour in July.
"I feel it has been a long time since I rode the Tour. I'm really excited about going back," said Bernal when his contract extension was announced.