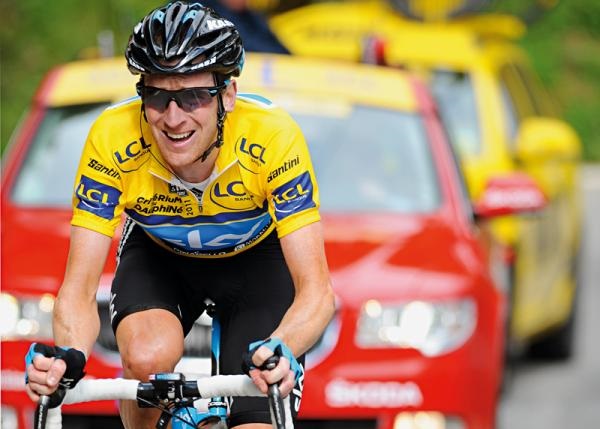 (AP) – Bradley Wiggins used a banned powerful corticosteroid to enhance his performance while preparing to win the Tour de France in 2012, a British parliamentary committee said in a doping investigation report that accuses Team Sky of crossing an "ethical line" after preaching zero tolerance.
The legislators said they received evidence that shows Team Sky sought a therapeutic use exemption (TUE) for Wiggins to take triamcinolone "not to treat medical need" – asthma – "but to improve his power to weight ratio."
"We believe this powerful corticosteroid was being used to prepare Bradley Wiggins, and possibly other riders supporting him, for the (2012) Tour de France," the House of Commons select committee said in the report published Monday. "He benefited from the performance-enhancing properties of this drug during the race."
In a statement, Wiggins denied "any drug was used without medical need." Team Sky defended its reputation in a statement criticizing "the anonymous and potentially malicious claim" by members of parliament.
But the report from a committee established in 2015 to investigate doping casts doubt on the team's use of medication and failure to keep accurate medical records.
Team Sky general manager "David Brailsford must take responsibility for these failures, the regime under which Team Sky riders trained and competed and the damaging skepticism about the legitimacy of his team's performance and accomplishments," the report states.
Brailsford, who directed Britain's breakthrough success at the 2008 Beijing Olympics, established Team Sky in 2009 with the financial backing of satellite broadcaster Sky, whose largest shareholder is Rupert Murdoch's 21st Century Fox. The stated mission was to cleanly produce Britain's first Tour de France champion as cycling was trying to rebuild its reputation after years of scandals.
The publication of the parliamentary report comes with Team Sky's four-time Tour de France champion, Chris Froome, under investigation by cycling's world governing body for failing a doping test. Froome has been ordered to explain why a urine sample he provided at the Spanish Vuelta in September showed a concentration of the asthma drug salbutamol at twice the permitted level. Froome denies any wrongdoing.
Wiggins was Team Sky's first Tour de France champion, emerging victorious in 2012 before cementing his status as Britain's most decorated Olympian at the 2016 Rio de Janeiro Games by taking his haul to eight medals before retiring.
Tour de France organizers told The Associated Press on Sunday that they have no comment to make on the issue.
MYSTERY PACKAGE
Investigations into Wiggins began later in 2016 following a leak to a newspaper about a medical package delivered to the rider at the 2011 Dauphine Libere race in France, a key pre-Tour event. The mystery deepened as Team Sky declined for two months to say what substance was in the bag dispatched from the shared British Cycling-Team Sky medical facility in Manchester.
There was no paper trail or written evidence to substantiate a claim by Brailsford that the product couriered was Fluimucil , a brand name for a legal decongestant containing acetylcysteine used for clearing mucus. The committee now says that Team Sky doctor Richard Freeman, who failed to log Wiggins' use of an unlicensed product, can no longer confirm it was Fluimucil and he was "the only reported source of this information."
The U.K. Anti-Doping Agency said in November that its investigation into whether the product was in fact the corticosteroid triamcinolone was hampered by a lack of accurate medical records but it decided not to issue charges . UKAD said it would re-open the investigation if new evidence emerged.
CORTICOSTEROIDS … TO LEAN DOWN
The parliamentary committee said it received material from a "well-placed and respected source" about the use of triamcinolone, specifically that "Wiggins was using these drugs beyond the requirement for any TUE," which allows athletes to use otherwise-banned substances because of a verified medical need.
Wiggins and a smaller group of riders trained away from the rest of Team Sky while preparing for the 2012 season, according to the legislators, who report: "The source said they were all using corticosteroids out of competition to lean down in preparation for the major races that season."
The digital, culture, media and sports select committee said it was told in writing by Wiggins' former coach, Shane Sutton, that "what Brad was doing was unethical but not against the rules" by taking triamcinolone.
OPEN TO ABUSE
A leak by the Russian-linked hackers Fancy Bears in 2016 showed that Wiggins gained a therapeutic use exemption to have the anti-inflammatory drug triamcinolone injected on three specific occasions before the 2011 and 2012 Tours and the 2013 Giro D'Italia.
The British legislators found the TUE system was "open to abuse" by using products "to achieve a peak level of physical condition in the athlete, rather than returning them to a normal state of health."
While Wiggins' use of a TUE "does not constitute a violation of the WADA code," the report said, "it does cross the ethical line that David Brailsford says he himself drew for Team Sky.
"In this case, and contrary to the testimony of David Brailsford in front of the committee, we believe that drugs were being used by Team Sky, within the WADA rules, to enhance the performance of riders, and not just to treat medical need."
TUEs were granted up to 2014 based on the assessment by a doctor from both the team and the World Anti-Doping Agency. Now a TUE committee of independent medics gives approval.
"The TUE system needs to be kept under permanent review, but the question inevitably remains, that if an athlete is so ill that they can only compete using a drug that is otherwise banned during competition, then why are they competing at all?" the legislators wrote.
The committee called on WADA to introduce a complete ban on the use of corticosteroids and the painkiller Tramadol by athletes.