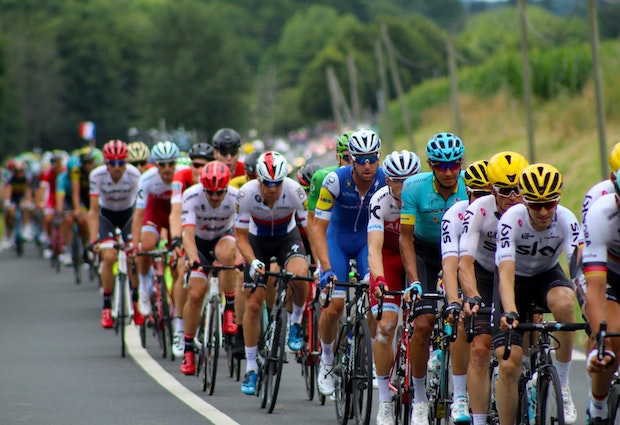 Technology is one of the most controversial aspects of cycling. In terms of hobbyists and amateurs, it is largely beneficial. Not only does modern tech help cyclists to gauge their performance and improvement, but it also tends to make the sport safer.
For example, GPS trackers are now a modern fixture on most bicycles, which helps performance-tracking as well as bike recovery in cases of robbery. There are apps, too, such as Bike Doctor, which helps cyclists tackle their own repair jobs as well as the almighty power meter.
Cyclists also have access to specialized lights that enable them to cycle safely, including LED solutions like Revolights and Garmin's Varia Smart Bike Light. There are even cycling horns to make urban travel safer, such as Hornit and Loud Bicycle, and an evolving series of equipment improvements.
Such advancements help bring amateurs closer to the pros which they follow closely via Grand Tours. With teams now using power meters as well as computers, it seems the future of cycling will be closely tied to technology. At the moment, it's a topic of contention for some pundits, who find that such tech alters how they cover Grand Tours and which teams are predicted to win.
With the 2021 season at a close, online betting that covers cyclingwill hold off on posting odds for Grand Tours like the Tour de France, Tour of Flanders, and Cyclocross until the new year rolls around. In the meantime, sites like Betway offer handy guides for understanding the ins and outs of cycling betting, which covers more than just the outright winner.
For the moment, power meters and computers aren't a pivotal aspect of analysis before events or during them. Instead, commentators closely gauge team decision-making based on the assumed feedback from power meters. Some, like Chris Froome, think power meters and computers are like gears; in other words, they're advances that have improved the sport.
Others, like Nairo Quintana, want them gone. The sooner, the better.
The Power Meter
Though the debate rages on, power meters aren't new to cycling. In fact, they've been around in some form since the 1980s. Basic strain gauges measure how much force cyclists are applying, then calculate their overall power by comparing this figure with velocity. In other words, cyclists can see how much work they're putting in.
This is useful for a number of reasons. First, cyclists are able to compare their output to standards developed during training. They can tell if they're expending too much energy and rehash their output accordingly.
Second, they're able to compare their power output as they advance through a course. A team will have devised specific plans for when to push and when to be more conservative; a power meter is how cyclists can measure whether they're meeting team goals while racing live.
Lastly, power meters let cyclists follow 'power models'. Power models are expectations built on the fitness of an athlete, the course they're racing, and what a team can expect from both based on physiological conditions. In other words, it lets a racer know what they can achieve in a given moment, calculating aspects ranging from aerodynamic drag to heart rate.
There's a growing movement in professional cycling to limit the usage of power meters in Grand Tours. Though most are on board with the usage of power meters in training, many prefer the more dramatic days of cycling before power meters became standardized. At this time, cyclists had to make decisions on energy output solely based on instinct and experience.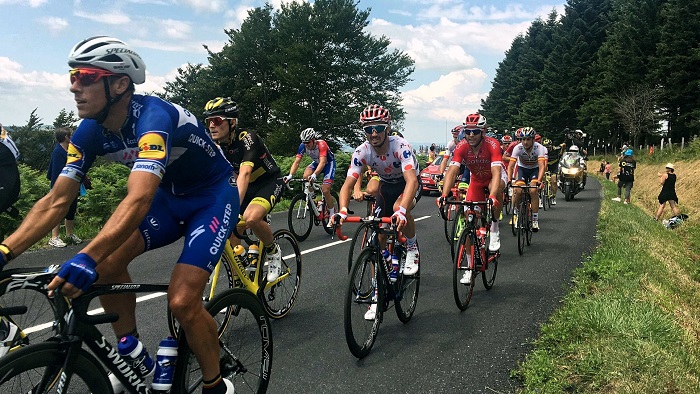 An Expanding Number of Computers
On Grand Tours and on local bike lanes, power meters are now accompanied by cycling computers, also known as cyclocomputers. Though they may sound more complex than the power meter, they're actually simple. A cycling computer is a mounted display that shows information about a cycling trip.
In other words, the cycling computer is the device used to communicate information tabulated from the power meter. Most cycling computers measure power input (the power meter), as well as heart rate, which is integrated into the system via wearable technology.
In 2021, five different computers were used by teams racing in the Tour de France. These included products from Wahoo, Garmin, Bryton, Hammerhead, and SRM. Garmin was the most popular, with 11 teams opting for the brand; Wahoo was close behind with eight.