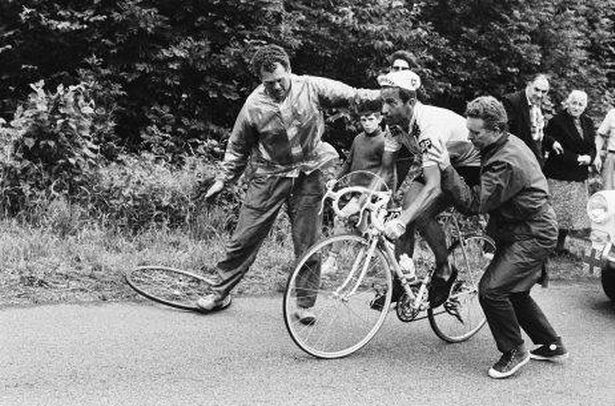 Tom Simpson was a World Champion, a winner of Paris-Nice and multiple Monuments and a BBC Sports Personality of the Year, and basically blazed a trail for British riders during a brief but decorated career.
The thirteenth stage of the 1967 Tour de France finishes on legendary Mont Ventoux. As the race reached the lower slopes of Ventoux, Tom Simpson's team mechanic Harry Hall, witnessed the cyclist putting the lid back on his water bottle as he exited a building.
Race commissaire, Jacques Lohmuller, later confirmed to Hall that he also saw the incident and that Simpson was putting brandy in his bottle. Near the summit of Ventoux, the peloton began to fracture.
Simpson was in the front group before slipping back to a group of chasers about a minute behind. He then began losing control of his bike, zig-zagging across the road.
A kilometer from the summit, Simpson fell off his bike. Team manager Alec Taylor and Hall arrived in the team car to help him. Hall tried to persuade Simpson to stop, saying: "Come on Tom, that's it, that's your Tour finished", but Simpson said he wanted to continue. Taylor said, "If Tom wants to go on, he goes". Noticing his toe straps were still undone, Simpson said, "Me straps, Harry, me straps!"
They got him on his bike and pushed him off. Simpson's last words, as remembered by Hall, were "On, on, on." Hall estimated Simpson rode a further 500m before he began to wobble, and was held upright by spectators; he was unconscious, with his hands locked on the handlebars. Hall and a nurse from the Tour's medical team took turns giving Simpson mouth-to-mouth resuscitation, before Dumas arrived with an oxygen mask.
Simpson was declared dead later that afternoon after being airlifted to Avignon Hospital.
According to the autopsy, Simpson had amphetamines and alcohol in his body, which, combined with the diarrhoea, the oppressive heat and the gradient of Ventoux, contributed to his death.