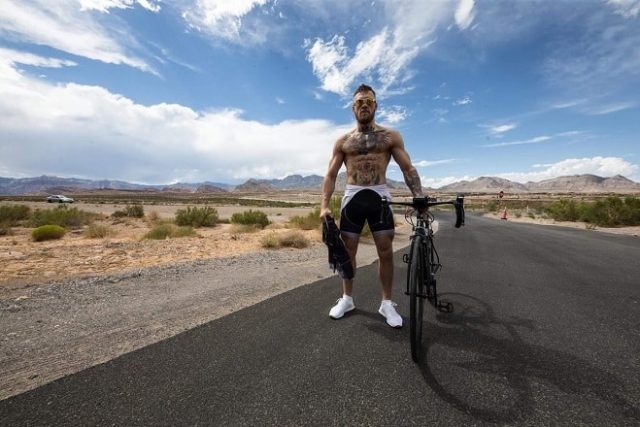 After months of hype and profanity Floyd Mayweather and Conor McGregor take their war of words into the ring on Saturday for a boxing mismatch that is poised to become the richest fight in history.
It will be the Conor McGregor's first ever bout in the boxing ring and part of his training regime to prepare has included riding a bike.
Given that Mayweather is one of the best defensive fighters in boxing history, McGregor knows that he'll need to be "on his bike" to chase down him in the ring.
McGregor frequently uses the bike as preparation in the weeks leading up to fights.
"We do 50 minutes at a specific heart rate at a specific wattage. For endurance it's good because you're not pounding the roads," McGregor said. "If I was to run, it's not as good for the body."
"So I do the sprints on the treadmill and on the rowing machine. And then I do my endurance on the bike."
There will be no titles on the line tonight, only a gaudy "Money Belt" with a strap made from crocodile leather and featuring 24 karat gold, 3,360 diamonds along with sapphires and emeralds, but much will be riding on the result.