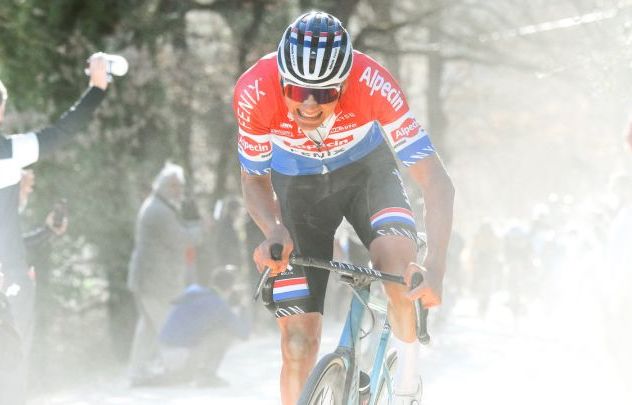 Van der Poel: Milano-Sanremo is one of the most difficult races to win.  
Mathieu van der Poel is one of the top favorites for Saturday's Milano-Sanremo. The Dutch champion can win "La Primavera" to his name 60 years after grandfather Raymond Poulidor did it.
"It's a cool story, but Milan-San Remo is a race that I want to win anyway", said Mathieu. "Milano-Sanremo is one of the most difficult races to win. There are few moments where you can force something. Usually you have to wait until the Poggio, because the Cipressa is too far from the line. So there are few places where you can make a move. After almost three hundred kilometers it will become clear who is the strongest."
Other top favorites at the start are Wout van Aert and Julian Alaphilippe. "The big three," as they are called this spring  are all in top form and all eyes will be on the trio on Saturday as well.
"I think Wout has a little more chance, because he already won last year. That can make a significant difference, but normally the strongest wins in Sanremo. Last year I was not good enough, but I hope to be among the best this year on top of the Poggio."
On Sunday, Van der Poel announced that the stage victory in Tirreno-Adriatico was one of his hardest-fought victories ever. When asked if he has fully recovered from that early attack, he responded: "I just think I have benefited from it. Moreover, I have now been able to take it easy for three days, so that should be enough. "
For the first time in history, the 299-kilometer race will be broadcast from start to finish and will be live on cycling.today and cyclingstream.com.
Van der Poel: "I don't really know why, I would like it to be an open race, but it isn't. It is the first 100 to 150 kilometers to just ride in the peloton and hope you don't fall asleep. That's why I don't think Milan-Sanremo is a very nice race, because there are few moments when you can make a difference. We just have to wait until the Poggio and then see who still has the best legs. "