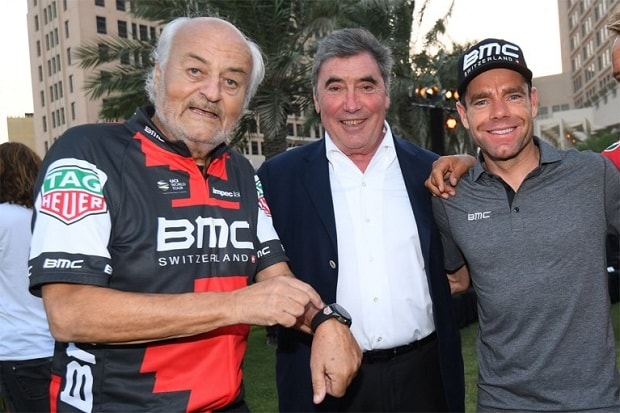 (Reuters) – Andreas "Andy" Rihs, a Swiss billionaire whose success with the world's largest hearing aid company Sonova financed his passion for professional bicycle racing and soccer, has died at the age of 75.
Rihs, who died on Wednesday and had been suffering from cancer, was in the early 2000s the face of Switzerland's Phonak Cycling Team, named after his hearing aid brand.
He was also owner of Swiss bicycle maker BMC, which has a professional team, and Bern's Young Boys soccer team.
With Phonak, Rihs experienced pro cycling's highs and lows, when Floyd Landis won the 2006 Tour de France before testing positive for a banned substance. Another Phonak rider, Tyler Hamilton, was stripped of his 2004 Olympic gold medal as a drug cheat.
"As a passionate cyclist, I am bitterly disappointed that the sport of cycling apparently has become a synonym for doping," Rihs said in 2006 when he disbanded the Phonak team.
Still, Rihs, a hobby rider who himself climbed Mont Ventoux, stuck to the sport, giving millions of francs to build an 8,000-square-metre velodrome in Switzerland that caters to Swiss Olympic athletes.
Australian Cadel Evans won the 2011 Tour de France riding for Rihs' BMC team, a victory that still stands.
"A great supporter of sport has left us," the team said on Thursday.
Rihs, born in 1942 in Stuttgart, Germany, took over his father's Swiss hearing aid company in 1966 with a partner and later his brother, helping grow sales to nearly 2.4 billion Swiss francs ($2.48 billion) in 2017. Rihs owned about 3.6 percent of Sonova stock, but left its board several years ago.
"We have not only lost a great friend with tremendous foresight and an extraordinarily creative spirit, but also a multitalented and passionate entrepreneur," Sonova Chairman Robert Spoerry said.